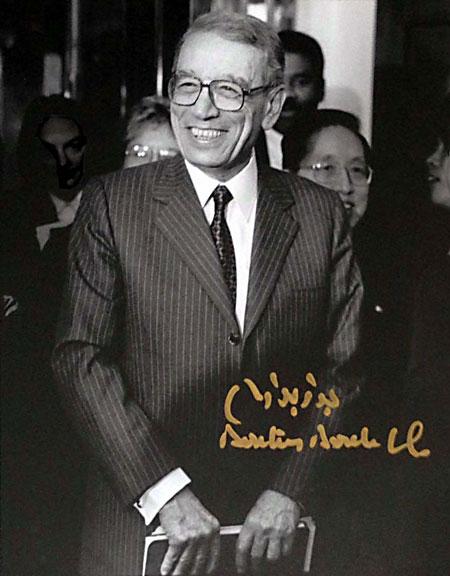 This file photo with Boutros Boutros-Ghali's signiture was taken on March 26, 1996 at Beijing's Zhongnanhai during his visit to China. [Photo by Xu Jingxin/China Daily]
China said on Wednesday its government and people would remember the contribution made by Boutros Boutros-Ghali, the former United Nations secretary-general whose death was announced a day earlier.
Boutros-Ghali, 93, served as UN secretary-general from January 1992 to December 1996 and was the first UN chief from Africa.
Foreign Ministry spokesman Hong Lei said Boutros-Ghali had made an "indelible contribution" to resolving conflicts, improving human well-being and strengthening the UN's role.
He was also "an old friend of the Chinese people" devoted to developing Sino-Egyptian relations and strengthening cooperation between China and the UN.
Veteran Chinese diplomat Hua Liming said Boutros-Ghali had advanced relations between his country and China while serving as Egyptian foreign minister. He also took a stance similar to China's on key UN issues after becoming the organization's chief.
On taking charge at the UN, Boutros-Ghali had insisted that international peacekeeping operations should be authorized by the organization instead of being determined by a superpower, a view supported by China, Hua said.
In 2006, on the 50th anniversary of ties between the two countries, Boutros-Ghali was among those who received awards from then-Chinese premier Wen Jiabao for their contributions to Sino-Egyptian relations.
Yang Fuchang, who served as China's ambassador to Egypt from 1994 to 1998, said the Egyptian had left him with the impression of being "very knowledgeable" and "very steady and calm".
Boutros-Ghali was awarded an honorary doctoral degree by Nanjing University in 2002.
Huang Chengfeng, the former director of the university's foreign affairs office who accompanied Boutros-Ghali during his visit to the university in May 2002, said he was very friendly to people around him.
"He made no specific demands for accommodation and food," she said. "He took the initiative to talk to the Chinese staff members, asking about their lives and living conditions. I still carefully keep the brooch that Mrs Boutros-Ghali gave tome."
Contact the writer atwangqingyun@chinadaily.com.cn