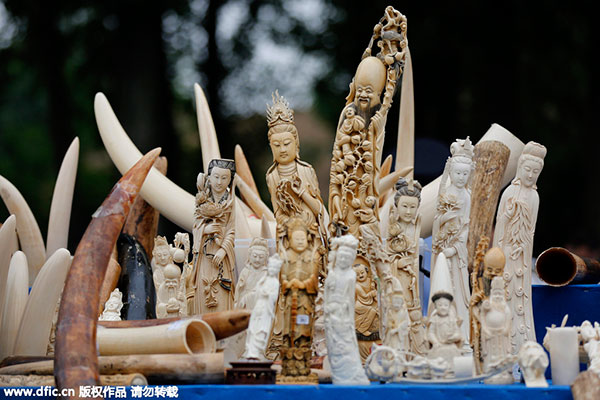 Confiscated ivory items and carvings are displayed during an ivory destruction ceremony at Beijing's wildlife rescue and rehabilitation center, in Beijing, May 29, 2015. As many as 660 kg of ivory items and carvings confiscated since 2014 have been crushed by China's State Forestry Administration (SFA) and General Administration of Customs (GACC). [Photo/IC]
The revised draft of Law on Protection of Wildlife was presented to the Standing Committee of the National People's Congress for deliberation on Monday.
The revised draft tightens regulation on illegal purchase and consumption of wildlife. It said buying and eating wildlife and related products should follow laws and regulations as well as social customs.
It adds that regulation and punishment rules on sales, purchase, utilization and transportation of wildlife that is not under special state protection, prohibitive rules on providing platform for advertising, information sharing and even trading of illegal sales, purchase and utilization of wildlife and related products.
It also establishes coordination mechanism of governments on prevention and crack down of wildlife trafficking and illegal trading.
Wang Hongju, a senior official of the Environment Protection and Resources Conservation Committee under the NPC, said the current law could not fully meet the demand of wildlife protection in practice.
Wang said the revised draft is based on field study, comprehensive investigation and consultation. The revised draft has expanded the current law from 42 articles to 60 articles.
"Since March 1, 1989, when the Law on Protection of Wildlife took effect, China has made achievements on wildlife protection. The species population of terrestrial wildlife under special state protection has remained stable. Endangered wildlife including Giant panda, Nipponia Nippon, Tibetan antelope and Chinese alligator has also seen steady growth in population," said Wang.
"However, wildlife protection in China is still facing a lot of challenges and the current law cannot fully meet the demand of the reality."
Highlights of the revised draft on Law of the People's Republic of China on the Protection of Wildlife
1. Adjustment on wildlife and habitat protection list
The revised draft added that the law is formulated for the purpose of protecting the habitat of wildlife. It also added the protection list of wildlife and habitat and regulation to prevent commercial development that could fragment the habitat.
Besides, it gave more details on investigation, monitoring and evaluation system of wildlife and its habitat.
2. Captive Breeding
A license should be obtained to conduct captive breeding of wildlife animals under special state protection. For those who can breed wildlife animals under special state protection, they should have necessary space, technology, equipment and foundation that meet the related standard. They shall not abuse the wildlife animals.
3. Wildlife protection fund
All levels of government should make the fund to protect wildlife animals as part of the budget. For those who lose money for protection wildlife animals, local governments should give compensation and central government should also provide support from fiscal system. The revised draft clarifies the central government's expenditure responsibility.