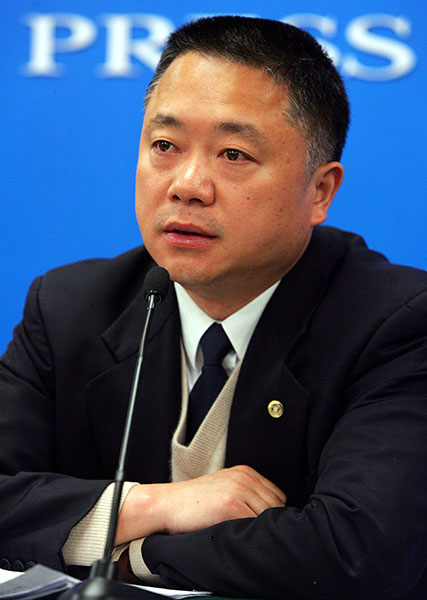 Liu Yuejin, who has been appointed to oversee China's fight against terrorism. CHINA DAILY
Liu Yuejin, a key figure in China's crackdown on illegal narcotics, has been appointed as the first commissioner of counterterrorism, it was announced on Sunday.
The 56-year-old, previously an assistant minister of public security, will coordinate the nation's efforts to prevent terrorist attacks.
A spokesman for the Ministry of Public Security declined to give further details on Liu's appointment. However, Mei Jianming at the People's Public Security University of China welcomed the move.
"After Liu's appointment, it's urgent we set up a national intelligence-sharing platform, which will help the authorities to obtain and analyze terrorist-related intelligence, then effectively direct forces such as the police, armed police and soldiers to stop terrorist plots and target criminal groups," said Mei, director of the college's counterterrorism research center.
Liu's appointment follows a series of terror attacks in recent years across the country that have claimed many lives, including in March last year when an armed gang killed 29 people and injured 143 others in Kunming, capital of Yunnan province.
In May last year, the ministry launched a one-year operation targeting major violent incidents. According to the authorities, several terror suspects from China's northwestern Xinjiang Uygur autonomous region were prevented from leaving the country to receive terrorist training in the Middle East or join the Islamic State.
After the recent attacks in Paris, which left 129 dead and hundreds injured, China has "strengthened patrols and preventive measures across the country to stop similar cases occurring here", the ministry said.
Liu, who is from the central province of Hunan and in earlier interviews has called himself a "grassroots police officer", has been involved in efforts to halt the illegal drug trade since the 1980s.
After the murder of 13 Chinese fishermen aboard two vessels, the Huaping and Yuxing 8, in October 2011, Liu was appointed head of a special investigation team that worked with police in Laos, Myanmar and Thailand to capture the culprits, including druglord Naw Kham.
In November 2012, Naw Kham, who was from Myanmar, and several members of his gang were sentenced to death in a Yunnan court.
Liu has also served as deputy director of public security for Tianjin, director of the Public Security Ministry's General Affairs Office and director of the Chinese People's Armed Police Force Academy.