Smog means the capital's annual goal to reduce pollutants could be hard to achieve, official says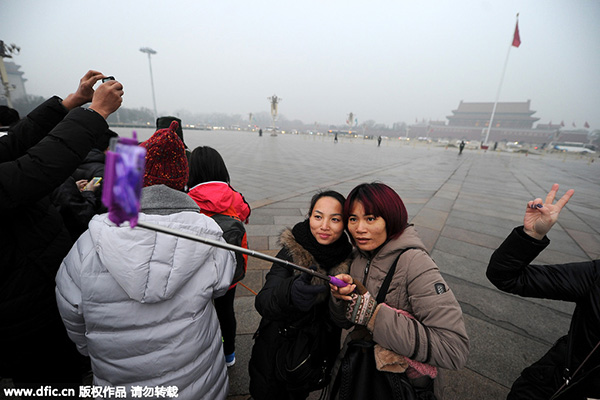 Tourists take pictures at Tian'anmen Square in Beijing, Dec 14, 2015. [Photo/IC]
Frequent spells of smog, which has hit Beijing four times since last month, may make it difficult for the capital to achieve its annual air quality improvement goal, a municipal official said on Sunday.
Beijing has set a target of cutting the concentration of PM2.5-particulate matter with a diameter of less than 2.5 microns that can penetrate the lungs and harm health-by 5 percent year-on-year.
Readings of the pollutants averaged 86 last year, and the figure was 74 for the first 11 months of this year.
But in recent days, when the city has twice been forced to issue the highest-level red alert warning for smog, the average reading was 241, more than three times the national safety level.
This will definitely make the annual average reading for PM2.5 higher and the pollutant-reduction target harder to achieve, said Zhang Dawei, head of the Beijing Municipal Environment Monitoring Center.
On Friday, Beijing issued its second red alert, which helped to reduce hazardous pollutants by up to 30 percent, the municipal environmental watchdog said.
"From 7 am on Saturday to 10 am on Sunday, the PM2.5 concentration was reduced by 10 to 30 percent, compared with the situation if no red alert had been issued," Zhang said.
The peak reading for PM2.5 in Beijing as of 7 pm on Sunday was 391, recorded in the southern suburbs, data from the center showed.
The red alert took effect at 7 am on Saturday and will remain in force until midnight on Tuesday. Under the emergency measures, industrial operations are suspended and the number of vehicles on the roads reduced by half based on odd and even license plate numbers.
The smog is forecast to last until Wednesday when a strong cold front is due to sweep across northern China.
Beijing is not the only place finding it hard to achieve its air quality goal.
Baoding in Hebei province, one of the cities with the worst air quality last year, is facing the same challenge this year.
To achieve its goal, the city has decided to extend the red alert for smog for the rest of December, a government statement said.
It saw a PM2.5 reading of about 1,000 recently, forcing the authorities to take the strictest measures to date to lower pollution.
Production has been suspended or restricted at 2,045 major companies this month and work at 562 construction sites has also been halted.
Restrictions are being placed on the city's thermal heating plants to guarantee only basic services and to cut coal consumption, which has been a major source of smog.