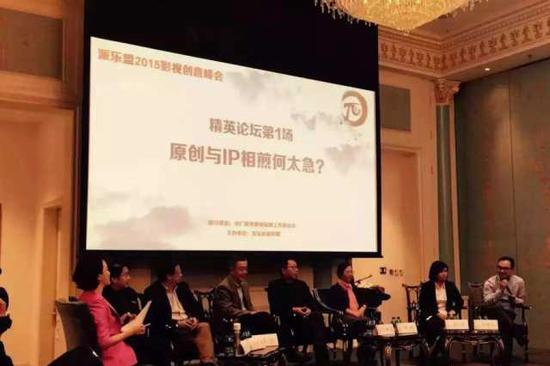 Scene of the forum.
Alibaba Pictures has managed to offend China's scriptwriters in one fell swoop-or perhaps it does not need them to fulfill its film dreams.
Over the weekend, a remark by one of its executives angered so many of the country's top scribes that many said they would not work for the new film company.
This is despite it being backed by Alibaba Group, a leading global e-commerce company.
Xu Yuanxiang, vice-president of Alibaba Pictures, said at a forum, "Our method is completely subversive and we will not hire professional writers from now on."
Instead, his company will select a dozen writers of fan fiction and hosts of online forums to form a group to come up with storylines.
"They'll compete with each other and get eliminated one by one, just like in a killing game, with the last one remaining getting a prize and a story credit in the movie," Xu said.
Xu has also come up with a concept called "Loser ticket-buying psychology", saying that 85 percent of China's moviegoers are aged between 19 and 29, "which means you guys in this forum do not matter to the box office."
"Loser" in Chinese is a humorous term for the young and unsuccessful.
But judging from the backlash, the professionals are far from thankful for Xu "pointing out a way to survive" as he emphasized. Instead, they appear to have been deeply offended.
Xiduorui, a firm that represents 70 scriptwriters, said it would not work with Alibaba until it changes its attitude.
Yu Fei, a screenwriter, described Xu's approach as "using capital to enslave online writers", while Dong Runnian, another writer, equated it with "trampling on the dignity of all involved".
Manfred Wong, a Hong Kong writer now working in Beijing, said if money alone could create good movies, then Li Ka-shing, long billed as Asia's richest man, would have got into the act a long time ago, "leaving no room for you upstarts".
As the issue spinned out of control, Xu himself clarified his statement on social media.
"I have been misquoted. I know the importance of scripts as I used to be a screenwriter and I have empathy with the other screenwriters. I just emphasized the respective importance of IP and screenwriters. I look forward to cooperating with you," said Xu Yuanxiang on his sina weibo, China's Twitter-like social networking site, in response to the complaints from many screenwriters.
Zhang Qiang, CEO of Alibaba Pictures, has since issued a statement, saying his company "has never wavered in its respect for professional writers".
Shui Guai, a critic and film curator, has sympathy for Alibaba.
"Since it got into film two years ago, it has little to show for all the big money it has thrown into it. In terms of the gap between investment and return, only China's soccer is comparable," Shui said.