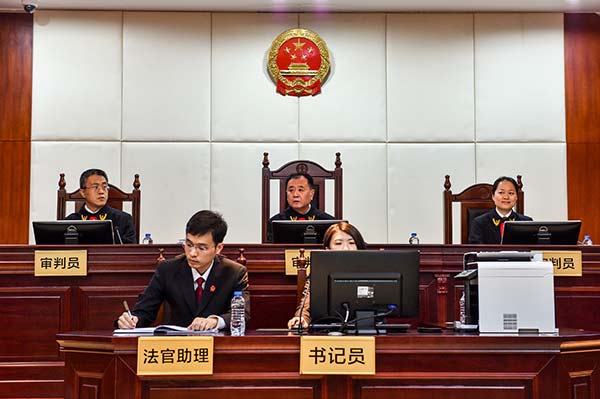 The Supreme People's Court's No 1 circuit court hears the first case in Shenzhen, Guangdong province, on March 2 after it started operations in February. MAO SIQIAN/XINHUA
The changing face of China's legal system
An overview of some of the reforms undertaken since pilot programs were introduced last year:
In November, the Beijing Intellectual Property Court was established. One month later, IP courts were also established in Shanghai and Guangzhou, the capital of Guangdong province.
In late January, two circuit courts were opened under the Supreme People's Court-one in Shenyang, Liaoning province, the other in Shenzhen, Guangdong. Residents of the regions and areas under the courts' jurisdiction can lodge appeals with them instead of traveling to Beijing, where the country's top court is located. The new courts will also help to spread the workload for top judges.
In March, a pilot program signaled the start of a program to reduce the number of judges serving at Shanghai's courts. The program aims to streamline the judicial process and improve the quality of decisions handed down. The number of judges will be lowered and some current judges may be reassigned to work as assistants, helping judges with legal research and administration, but will not be allowed to decide verdicts.
Since May, all courts have been obliged to file and process cases without delay. Moreover, under the new case-registration system all appeals that fulfill legal and evidenciary requirements must be accepted immediately, without prior review.
First person: Life was too tough, so I quit Cao Yin
He Wei, 33, a former court official who faced an uphill battle to become a judge, resigned in June.
In 2011, along with seven other law graduates, I was excited to start work at the court. I had to pass a civil service exam and then a judicial exam. They are two of the toughest tests in the country and many people fail them several times.
Newcomers are required to undertake a one-year qualification period and then a further year of training.
Before the judicial reforms, potential judges were required to work as engrossment clerks, who are responsible for recording the details of trials, for more than three years before they were deemed qualified to hear cases. Even then, they still had to be named as a judge by the president of the court.
Under the reforms, that decision will be taken by the local legislature, but it seems that it will be harder to become a judge and will take longer to reach that level.
Now, the position of legal assistant has been created. The assistants will help judges research materials, prepare trials and draft judgments, but they will not have the right to decide verdicts.
I often worked overtime. I spent a lot of time studying complicated cases and even gave advice in court, but I was not a judge and I had no real status.
Even more annoying, seniority was a key factor in the appointment of judges at grassroots courts. Before the reforms, judges could be promoted to chief judge or president as a result of seniority, and that's still the case.
I can understand why the reforms state that the best qualified or most experienced people will be the first to be appointed as judges, but I cannot accept that some people-officials, for example-will get the same employment status because of their long service in the court.
I had no idea how long it would take before I became a judge, even though I was qualified to be one. I had to spend time maintaining links and good relations with the court's leaders and those who were allowed to appoint judges. I was exhausted and my career was foundering.
Before I began at the court, I believed I would simply pronounce verdicts in line with the law, but the reality shook me and led me to an employment crossroad.
I'm sure that the reforms are aimed at solving the problems in China's judicial system, especially by ensuring that the best judges hear cases and by preventing local authorities or government departments from interfering in the process or verdict, but I couldn't wait to see how they would pan out.
The economic pressure and other factors didn't allow me to wait. I was paid about 3,000 yuan ($472) a month, and that's not enough to get married on.
Life was too tough. That's why I left my dream job.
He Wei spoke with Cao Yin.