KUNMING - A Chinese court on Wednesday rejected appeals from six people convicted of murdering 13 Chinese sailors on the Mekong River last year.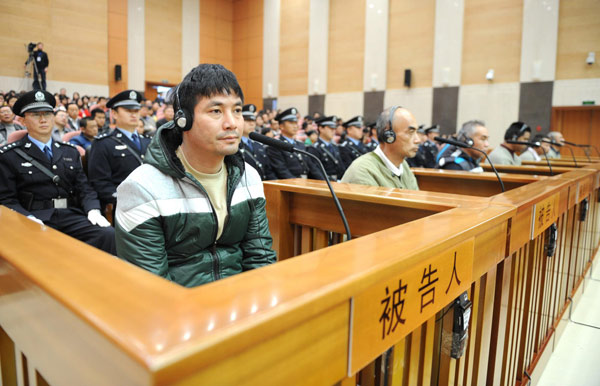 Nam Kham and other five suspects appear in the Higher People's Court of Yunnan Province in Kunming city, capital of Yunan province on Dec 20, 2012. [Photo/Xinhua]
The court upheld death penalties for the case's prime convicts - the Myanmar drug lord Naw Kham and three of his right-hand men.
The Provincial Higher People's Court of Yunnan also sustained sentences for the two other Myanmar convicts, known by their Chinese names Zha Bo and Zha Tuobo. They were handed a death sentence with two-year reprieve and eight years in prison, respectively.
The six were convicted of intentional homicide, drug trafficking, kidnapping and hijacking by a local court in Kunming, capital of Yunnan, in November.
Nicknamed "The Godfather," Naw Kham was the boss of the largest illegal armed drug trafficking gang on the Mekong River, which flows through China, Laos, Myanmar, Thailand, Cambodia and Vietnam.
The gang was busted earlier this year in a joint operation conducted by police from China, Laos, Myanmar and Thailand after the brutal murders of Chinese sailors triggered calls to rein in rampant crime in the border region.
Naw Kham's gang was found to have colluded with Thai soldiers and to have organized an attack on two Chinese cargo ships in October last year, gunning down 13 Chinese sailors and trafficking drugs. The gang was also involved in another kidnapping-for-ransom case targeting Chinese citizens on the Mekong in April last year, according to the court.
All six appealed their sentences after the trial in November. Naw Kham's lawyer pleaded for a reduced sentence on the grounds that his client was ordered to pay 6 million yuan ($953,895) in compensation to the victims' families.
The provincial higher court heard the appeals on December 20. In the verdict released Wednesday, the court said the appeals were rejected due to the "severe outcome" of the crimes.
The death penalties for Naw Kham and three of his subordinates will be submitted to the Supreme People's Court in Beijing for review prior to the executions, the court said.
Legal experts said the trial shows China is capable of protecting its citizens and any criminal violation against its people will be subject to punishment in accordance with the law.
"I believe the death penalty for Naw Kham is appropriate, or my brother and sister-in-law will not rest in peace," He Xilun, the younger brother of slain sailor He Xixing, told Xinhua in an interview in November.
Related:
Members of drug gang change pleas
Mekong attack suspects stand 2nd instance trial
Four in Mekong River attack sentenced to death
Mekong murder case verdicts to be announced
Mekong River suspect pleads guilty