KUNMING - Six people suspected of taking part in a deadly attack last year on the Mekong River that caused 13 Chinese sailors dead stood second instance trial on Thursday in a court in Southwest China's Yunnan province.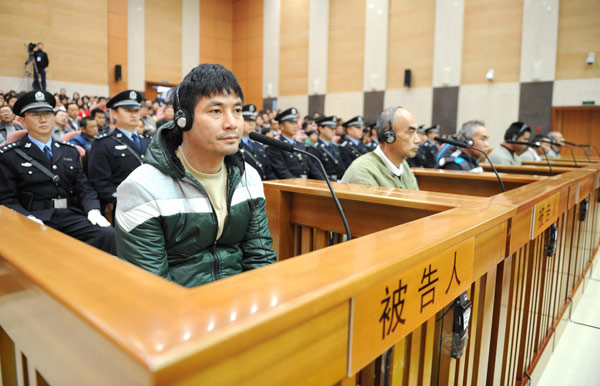 Nam Kham and other five suspects appear in the Higher People's Court of Yunnan Province in Kunming city, capital of Yunan province on Dec 20, 2012. [Photo/Xinhua]
The trial of Nam Kham, head of an armed drug gang from Myanmar, along with five other gang members, started at 9:00 am at the Higher People's Court of Yunnan Province.
The six gang members appeared at the court as appellants, together with their respective defenders, to participate in the litigation.
In view of the significance of the case, the chief judge announced an adjournment, saying the court will pronounce the sentence later following the collegiate bench panel's appraisal.
Related:
Four in Mekong River attack sentenced to death
Mekong murder case verdicts to be announced
Mekong River suspect pleads guilty