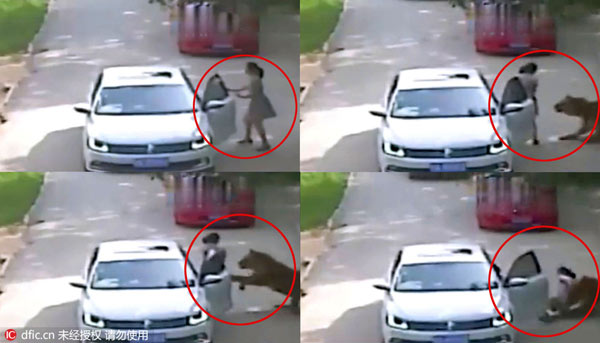 Screen shots show a tourist being attacked by a Siberian tiger in Badaling Safari World in Beijing, July 23, 2016. [Photo/IC] 
After a tiger mauled a woman to death in a wildlife park in Beijing, how to ensure security in such parks has become a concern.
The attack took place on Saturday in Badaling Safari World, which lies at the foot of the Great Wall. A woman is seen being attacked and dragged away by a Siberian tiger after she stepped out of her car in the park, according to a video footage released by China Central Television.
A man and an elderly woman, reportedly the woman's husband and mother, rushed out of the car and tried to help her. And a vehicle of the park's staff also appeared and chased the animal.
The younger woman was saved but her mother was fatally mauled by the tiger.
Reports by Legal Evening News said the woman and her family was on a self-driving tour and she stepped out the car in spite of the warning of the park to stay inside the vehicle during the tour. The wildlife park has been closed after the attack.
The attack became a hot topic on China's Twitter-like website Sina Weibo. The hashtag "Two visitors attacked by tiger" drew 260 million views and 31,000 people commented on it.
Most of the internet users deemed the park's operator and tiger innocent.
"Given that the rescue vehicle came quickly after the incident and repeated warnings were issued telling visitors to stay inside the vehicles, I think the park's operator should not be blamed," said Zhu Jiuyi.
"I wish the tiger would not be punished for this. It was not its fault," said 78Yan.
Wildlife parks around the world warn against risky behaviors.
Kruger National Park, one of the largest national reserves in Africa, prohibits self-driving visitors from driving vehicles off tarred or gravel road to get closer to animals.
In a similar attack that happened in a South African safari park last month, a 22-year-old American woman was killed by a lion when she opened the window of the car to take photos during a self-driving tour, a behavior strictly forbidden.