A network of high-speed lines, linking secondary routes to major ones, is on track to be completed by 2015, an official said a day before the first train departs on the world's longest high-speed line on Wednesday.
The 2,298-km line will connect Beijing and Guangzhou, capital of Guangdong province. Trains will hurtle along the track at 300 km per hour.
The country's high-speed railway network will reach 50,000 km by 2020, with four north-south and four east-west main lines as the major routes.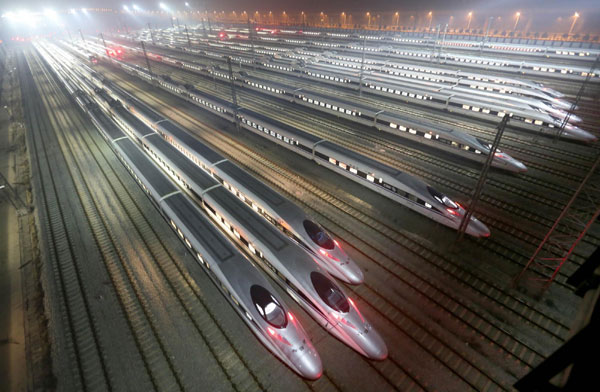 Photo taken on Dec 25 shows trains in Wuhan, Central China's Hubei province get ready for the operation of the 2,298-km high-speed line connecting Beijing and Guangzhou on Wednesday. [Photo/Xinhua]
The Beijing-Guangzhou line is one of the main north-south routes. Another major route, the Beijing-Shanghai line, opened in June 2011.
Zhao Chunlei, deputy head of the transport bureau of the Ministry of Railways, said that the other lines are under construction but all will be completed by 2015.
Though the construction of high-speed lines slowed after a deadly train accident in July 2011 that killed 40 people, he described the current pace of construction as "quite fast".
Once the Beijing-Guangzhou line opens on Wednesday, the length of high-speed lines will reach 9,349 km, according to the ministry.
The past 12 months saw some 3,000 km of high-speed lines put into operation.
"The pace (of railway construction) is in accordance with the economy. Also, transport infrastructure should be built in advance," Zhao said.
After the 2011 crash in Wenzhou, the ministry conducted a comprehensive safety review of all projects under construction.
Train speeds were slowed from 350 km/h to 300 km/h and most projects were suspended.