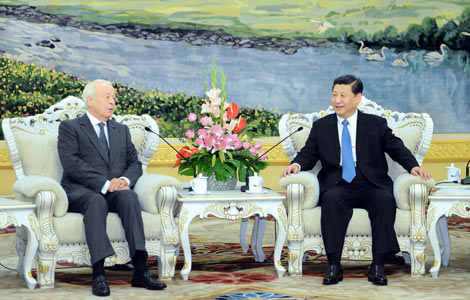 Vice President Xi Jinping meets with Alain Merieux, President of Fondation Merieux, in Beijing, Oct 23, 2012. [Photo/Xinhua]
BEIJING - Vice President Xi Jinping on Tuesday pledged to boost cooperation with France.
Xi made the remark as he met with Alain Merieux, President of Fondation Merieux, a French foundation working with China on public health care.
Xi said both sides have conducted multiple strategic exchanges and cooperation since the establishment of diplomatic ties.
The Chinese side attaches great importance to bilateral relations and is willing to work together with the French side to grasp new opportunities and expand exchanges and cooperation in multiple fields in a sustained way, Xi said.
Xi thanked Fondation Merieux for its contributions to bilateral relations, adding that he believes both sides will see an even brighter future through joint efforts.
Briefing Merieux on China's push to reform and develop its health care system, Xi voiced his appreciation for the French foundation's attention to and support for China's public health drive.
Fondation Merieux has cooperated extensively with the Ministry of Health on the prevention and control of infectious diseases, such as tuberculosis.
The Chinese government has paid great attention to the development of public medical care and gives priority to the protection of people's health and lives, Xi said.
Xi said he hopes the foundation will continue supporting China's efforts to improve medical care in the country.
Merieux said the foundation will further advance cooperation with its Chinese partners in order to make more contributions toward Chinese disease prevention and control, as well as its health care.