As the global economic recovery continues to stutter, China and France should develop a comprehensive strategic partnership, enhancing cooperation in terms of urbanization, sanitation and high-tech development, said Chinese Vice-Premier Li Keqiang on Saturday.
"China and France are important nations that enjoy comprehensive mutual benefits and good fundamentals for cooperation," said Li at his Beijing meeting with Paul Jean-Ortiz, France's special diplomatic advisor to the president.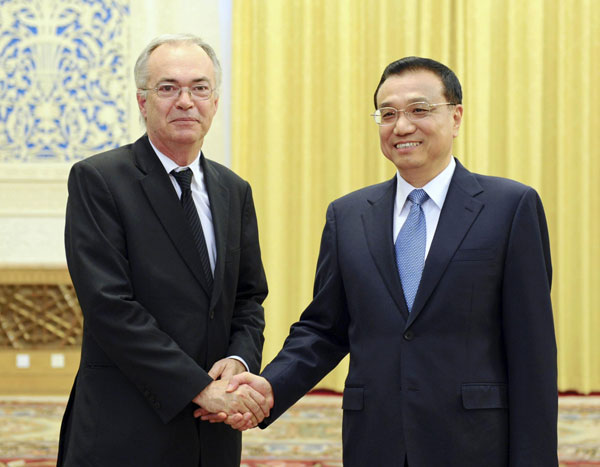 Vice-Premier Li Keqiang (right) greets Paul Jean-Ortiz, France's special diplomatic advisor to the president, at the Great Hall of the People in Beijing, on Saturday. Feng Yongbin / China Daily
The two countries should deepen their work together in the high-tech sector, urbanization, sanitation and on large-scale cooperative projects, making bilateral trade more balanced, he said.
"We will continue to get involved in addressing European debt problems in as many ways as possible, while China was glad to see the European Stability Mechanism treaty take effect recently," Li said.
With Spain struggling to rein in its deficit, the European debt crisis is poised to deepen; while in the United States, the unemployment rate remains stubbornly high.
In France, President Francois Hollande unveiled sharp tax hikes on business and the rich in his 2013 budget, which economists believe will add pressure on the French economy.
"Both nations will intensify bilateral cooperation in the areas of nuclear energy, aviation and space flight technology," Jean-Ortiz said.
"We should also expand cooperation on agriculture and sustainable development and enhance communication on major international and regional issues," he added.
In 2011, France surpassed Italy and became China's largest trade partner in the European Union, according to Chinese reports.
In his meeting with Jean-Ortiz, also on Saturday, Chinese State Councilor Dai Bingguo said China-French relations are "one of the most important bilateral relations worldwide", and confirmed that China is willing to further enhance ties in a "positive and comprehensive" way.
Both sides will seek to maintain mutual understanding and respect, take each other's core interests and major concerns into consideration, Dai said.
"This will make the China-France strategic partnership more substantial and conducive to both nations as well as the world," he said.
dingqingfen@chinadaily.com.cn