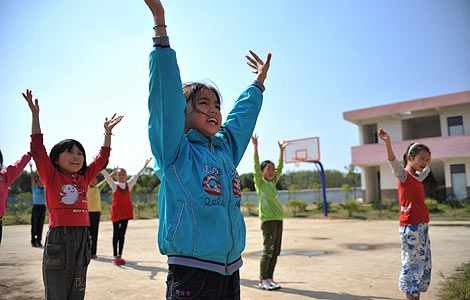 Elementary students exercise in a school in Nanchang, Jiangxi province, Oct 17, 2012. [Photo/Xinhua] 
BEIJING - An new inspection mechanism independent from education authorities will be built to enhance supervision over Chinese schools, the Ministry of Education said Monday.
New education inspection agencies will be directly set up under governments at or above the county level instead of being affiliated with education bureaus, the ministry said in an explanatory statement issued for a newly adopted regulation.
The Regulation on Educational Inspections was adopted on August 29 by the State Council, or China's cabinet, to improve quality and fairness in education.
Under the regulation, inspection agencies should independently carry out their duties under the guidance of the government in order to provide a legal basis for better checks and balances between education-related policymaking, execution and inspection, said the statement.
China has about 50,000 full-time or part-time education inspectors across the country, most of whom work for the internal agencies of education authorities, it added.
The regulation dictates procedures to be used during inspections, as well as qualifications and disciplinary measures for inspectors.
It also gives inspectors authorization to review and copy the financial records of schools within their jurisdiction, as well as a call for additional access to other related documents.
Any failure to assist inspectors may result in disciplinary punishment for heads of schools, says the regulation, adding that inspection reports should be made public.
The regulation entered into effect on October 1. An inter-ministry committee for education inspection has been established to coordinate the initiative across the country.