Britain's exit from the European Union is already generating signs of a coming boom in Chinese travelers who like to shop abroad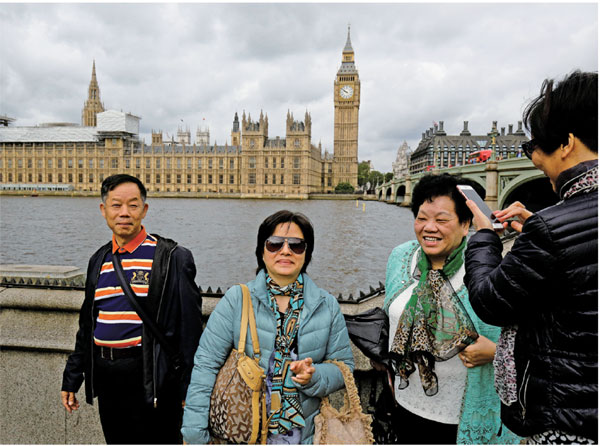 Chinese tourists stand near the Big Ben clock tower in London, Britain. Kevin Coombs
The tourism industry and retailers are readying for a sharp upturn in the number of Chinese visitors to post-Brexit Britain starting with this summer's tourist season. Travel sites reported Chinese searches for UK holidays shot up as the pound tumbled following the vote on EU membership.
"On our website, the number of consumers asking about British tourism increased rapidly after the referendum," Shi Yuduan, chief marketing officer at Chinese travel site Ctrip, tells China Daily. "Searches on our app about British tourism routes have doubled."
Jay Smith, managing director of Beiwei 55, a UK tour operator that offers Mandarin-speaking British guides, reports a "large spike" in inquiries in the weeks after the referendum.
"Some guests were quite explicit: they wanted to book now while the pound was low," he says.
The weakened euro will also see an increase in travel to other European destinations, according to Hu Hui, director of research and development at Chinese travel agency Caissa.
"The cheaper pound and euro brought on by the referendum will in the short term be an incentive for Chinese travelers going to Britain," he says. "It will reduce the cost of outbound tourism and also increase tourists' interest in traveling and shopping in destination countries. If the exchange rates stay like this, I think our travel business to Europe will increase by about 15 to 20 percent."
There is concern, however, that the recent terror attacks in France and Germany will negatively affect the countries' tourism industries - analysts speculate many tourists may choose to go elsewhere in Europe due to security concerns.
France is the world's top tourist destination, welcoming 85.4 million international visitors in 2015, according to Rochelle Turner, research director at the World Travel & Tourism Council.
"[France] has struggled with too many of these terror attacks in the past months and it will suffer in the short term as travelers, who, as a whole - like people generally - are risk averse, decide to choose other destinations for their holidays," Turner says.
Alternate destinations may include the UK, which is now almost a tenth cheaper than it was last year. That's a big incentive for Chinese travelers, for whom shopping is an essential part of a visit to the British Isles. Bicester Village - the outlet shopping center in Oxfordshire - is the second most visited location in the UK for Chinese visitors, behind Buckingham Palace.
Forty percent of Chinese tourists visit luxury stores while in the UK, and spend an average of 2,100 pounds ($2,756) per visitor, according to Patricia Yates, director of strategy and communications at VisitBritain, part of the British Tourist Authority.
"We know that value is one of the most important criteria for holiday choice across the world and Britain is looking like a particularly good value for Chinese currency - we're 8 percent cheaper than this time last year," Yates says. "I think it's important for our long haul markets like China that we get the message out that we are a particularly good value."