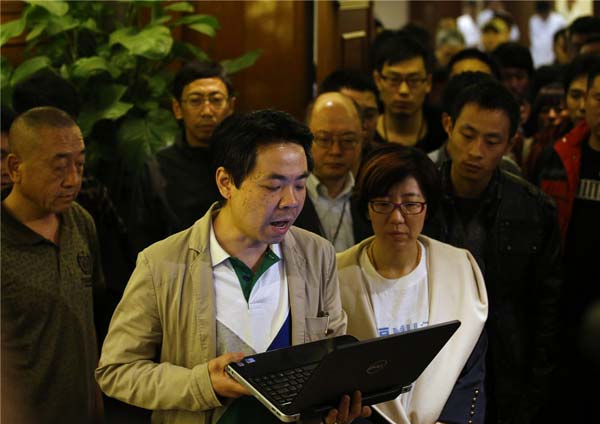 A representative reads complaints about the Malaysian government made by relatives of Chinese passengers aboard Malaysia Airlines MH370 at the Lido hotel in Beijing, March 25, 2014. [Photo/Agencies]
The loved ones of the Chinese passengers on missing Malaysia Airlines flight 370 have lashed out in at Malaysia after being informed by the country's prime minister the plane and its 239 passengers were believed lost.
In a joint statement issued on Tuesday, the family and friends wrote, ""Malaysian Prime Minister Najib Razak, without any direct evidence, announced the plane crashed in the southern Indian Ocean and none of the passengers survived. Since the Malaysian government announced loss of contact with the plane on March 8, Malaysia Airlines, the Malaysian government and the Malaysian military made every effort to postpone and conceal the truth in the past 18 days, attempting to deceive passengers' families as well as the world."
The statement follows Malaysian Prime Minister Najib Razak's announcement on Monday night that flight MH370 ended in the southern Indian Ocean.
The friends and families, however, were only angered by the announcement. According to a China Daily reporter on hand at the Metropark Lido Hotel in Beijing, where the group has been staying, some of the loved ones went to the Malaysian Embassy in Beijing to ask for details.
"Last night after hearing Malaysian Prime Minister's announcement, all the relatives of MH370 passengers responded in anguish. Some of them smashed the chairs and clashed with the police in the Metropark Lido Hotel. To avoid this situation, all the chairs have been linked up with each other by ropes," The China Daily reporter said.
The frustration of a 17-day search with few details appeared to have boiled over for the group of supporters.
The joint statement continued: "These mean and shameless acts not only tortured families of passengers, but also misled and delayed search and rescue operations. It caused wasted efforts and loss of rescue opportunities. If our relatives - the 154 Chinese passengers onboard - lost their lives, then Malaysia Airlines, the Malaysian government and the Malaysian military are the real murderer. We make the strongest protest and condemnation and will call to account their guilt by any possible means."