Malaysia Airlines (MAS) flight MH370 carrying 239 people lost contact with air traffic control some two hours after leaving Kuala Lumpur for Beijing on March 8. Till today, its whereabouts remain a mystery. Here is a timeline of the unfolding saga:
Saturday, March 8, 2014
12.41am: Malaysia Airlines flight MH370, a Boeing 777-200ER jetliner carrying 239 people, takes off from Kuala Lumpur International Airport for Beijing.
1.07am: Last transmission from the plane through the Aircraft Communications Addressing and Reporting System (ACARS), which transmits key information on a plane's condition, based on information which emerged later.
Between 1.07am and 1.37am: ACARS was manually switched off. The next transmission expected at 1.37am did not take place.
1.19am: Last pilot communication with air traffic control. An apparently relaxed final voice communication – "All right, good night" - comes from the cockpit, as the plane passes from Malaysian to Vietnamese air traffic control over the South China Sea. The airline said on March 17 that initial investigations indicate that it was co-pilot Fariq Abdul Hamid speaking.
About 1.31am: Last definitive sighting on civilian radar screens of MH370, heading north-east across the mouth of the Gulf of Thailand.
2.15am: A military defence radar picks up an unidentified blip 322km north-west of Penang. Malaysia confirmed later that the flight picked up by the radar was MH370.
6.30am: The flight did not land in Beijing as scheduled.
7.24am: MAS announced it had lost contact with the flight.
8.11am: Last confirmed communication between the plane and a satellite, based on information which emerged later. Investigators have determined that the plane's last communication with the satellite was in one of two possible corridors: a northern corridor from the border of Kazakhstan and Turkmenistan to northern Thailand and a southern corridor from Indonesia to the southern Indian Ocean.
11.14am: MAS held a news conference confirming the loss of contact with its aircraft.
1.41pm: State media reported Vietnam navy said plane crashed into sea near Vietnam's Tho Chu island.
2.33pm: At press conference held in Kuala Lumpur International Airport, Malaysia's transport minister said report on MH370 crash in Vietnam was "not true".
3.38pm: Plane "could have" crashed into Malaysian maritime territory 153 miles off the coast of Vietnam's Tho Chu island, based on calculations provided by Malaysian rescue authorities, a Vietnam navy officer said.
8.15pm: Chinese President Xi Jinping called for emergency measures to locate the plane.
9.11pm: Vietnamese search team spots two oil slicks in the sea off southern Vietnam.
10.46pm: Reports emerge that one passenger from Italy was not on the flight, his passport had been stolen in Thailand last year.
10.50pm: Vietnamese search team spots column of smoke off Vietnamese coastline.
Sunday, March 9, 2014
12.04am: Reports say a second passenger, from Austria, was also not on the flight. His passport was stolen two years ago in Thailand. Both the imposters bought their tickets from China Southern Airlines on a code share with Malaysia Airlines.
2.45am: Malaysia's Maritime Enforcement Agency intensifies search operations off the Kelantan coast, where the missing plane was last spotted, after rescuers found a small piece of canvas floating there.
10.02am: Overnight search and rescue operations for the missing plane have turned up nothing, the Malaysian authorities said.
10.42am: Singapore's navy said it has sent two warships and a naval helicopter to help in the six-country search for the plane. This is in addition to a military transport plane that was deployed on Saturday.
11.20am: The Malaysian authorities are investigating the identities of at least two other passengers on the flight, in addition to two who were found to be using stolen passports, a security official said.
11.57am: FBI is sending agents to probe disappearance of plane.
1.25pm: Singapore's Ministry of Defence says two military transport planes, a naval helicopter, two warships and a submarine support and rescue vessel are currently involved in the search.
- Malaysia says the plane may have turned back towards Kuala Lumpur, for no apparent reason.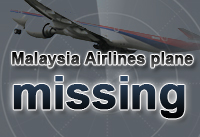 Dimensions of the Boeing 777-200ER
Wing span: 60.9 metres
Overall length: 63.7 metres
Tail height: 18.5 metres
Fuselage diameter: 6.19 metres
- Late on Sunday, a Vietnamese plane spots possible debris in the sea near Tho Chu island, part of a small archipelago off south-west Vietnam. It turns out to be a false alarm.
Monday, March 10, 2014
- The authorities double the search radius to 100 nautical miles (equivalent to 185km) around the point where MH370 disappeared from radar.
- China lashes out at Malaysia, saying it needs to speed up the investigation.
- In the afternoon, Malaysia sends ships to investigate a sighting of a possible life raft, but a Vietnamese vessel that gets there first finds only flotsam.
- Chemical analysis by Malaysia disproves any link between oil slicks found at sea and the missing plane.
- Boeing experts join the investigation. The US aircraft maker says it is giving technical advice to a team from the US National Transportation Safety Board that is already in South-east Asia to offer assistance.
Tuesday, March 11, 2014
- The search area now includes land on the Malaysian peninsula itself, the waters off its west coast, and an area to the north of Indonesia's Sumatra island – all far removed from the flight's scheduled route.
- Interpol names the two men travelling on stolen passports as Iranians Delavar Seyed Mohammadreza, aged 30, and Pouria Nour Mohammad Mehrdad, 18. Malaysian officials say they believe the pair are illegal immigrants and that people-smuggling is the likeliest explanation for the identity fraud.
- Malaysian police say they are focusing on theories including a hijacking, sabotage or psychological problems among those on board, but stress there is still no evidence to support any scenario.