PERTH - Australia's acting Prime Minister Warren Truss said Saturday that the arrival of Chinese military aircraft has provided a glimmer of hope as the search continues across the southern Indian Ocean for any signs of the missing Malaysia Airlines flight MH370.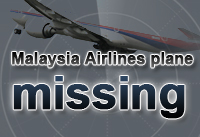 Dimensions of the Boeing 777-200ER
Wing span: 60.9 metres
Overall length: 63.7 metres
Tail height: 18.5 metres
Fuselage diameter: 6.19 metres
Speaking from Pearce Airbase, 45 km south of Perth, Mr Truss told Xinhua that the two Chinese IL-76 cargo planes due to land at the RAAF airbase Saturday afternoon (AEDT) were the ideal tools to bring into the search.
"We welcome the additional assets.. they have a capability I'm told, they are a good platform for visual observations and it is more likely a pair of eyes will identify something floating in an ocean so those two Chinese aircraft will certainly improve our capacity."
The acting prime minister said that the Australian P3 Orions currently scouring an area 2,500 km off Australia's western coastline will be joined by two Chinese aircraft.
"They will join the search tomorrow (and a) Japanese plane will arrive and it will join the search Monday or Tuesday."
The Australian vessel HMAS Success is expected to arrive in the search area later Saturday and "significant vessels" were coming from China, including the Kunlunshan, Truss said.
Royal Australian Air Force (RAAF) group captain Craig Heap said that Australia "very much appreciates the international effort associated with this task," adding that the Australian search area had so far covered some 500,000 square kilometers.
According to Heap, two Chinese IL-76 planes operating from this base will commence missions on Sunday.
"It is primarily a visual search so we need to be low, to be close to the water and to be there as long as we can," he said.
Heap, the RAAF pilot responsible for the search, said that he was "reasonably confident of finding something."
Analysis of satellite images identified Thursday two large objects that may have come from the missing jetliner. The objects were spotted about 2,500 km southwest of Perth.
Despite over 15 sorties flown by U.S. P8 Poseidon, Australian and New Zealand P3 Orions, no findings related to the suspicious debris have been reported as yet.
"We intend to continue the search until we are absolutely satisfied that further searching is futile -- and that day is not in sight at this stage. We are planning for it (the search) to continue indefinitely," Truss said.
Australia was committed to its international responsibilities, truss told reporters.
Truss added that even though the objects identified as possible remnants of flight MH370 were not a definite lead, they were "more substantial than any other."
"It's important (to continue the search) from the perspective of those who have families and indeed for the future of the aviation industry we do whatever we can. Firstly (we must) confirm the sightings are indeed connected in anyway with MH370 flight and if so what can be recovered... so we can learn more about this flight and any lessons to ensure if this happens again."