BEIJING - The missing Malaysian airplane is unlikely to have been shot down, said a Malaysian military official Friday in Beijing.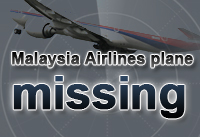 Lt. Gen. Dato'Sri Ackbal bin Haji Abdul Samad, air operations commander of the Royal Air Force, made the remarks at a briefing of relatives of Chinese passengers on board MH370.

Asked if it was possible that the plane has been shot down by air forces, Samad said it was "highly not possible" , adding that while military radar had captured signs of the jet, they did not take any measure as they believe the aircraft "friendly".
A Malaysian team arrived in Beijing late Thursday to deal with issues related to the missing plane and met relatives on Friday.