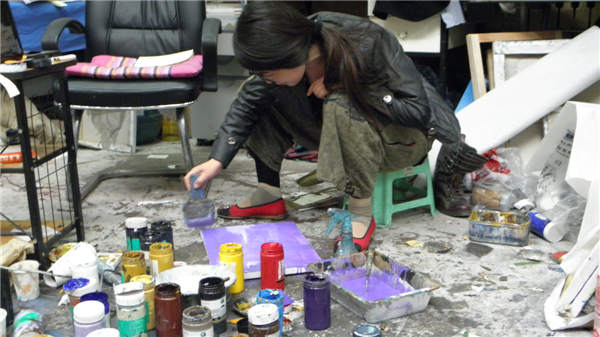 Liu Mei at work in her CAFA studio. [Photo by Nigel Moffiet/chinadaily.com.cn]
Liu Mei, 37, is completing a bachelor's degree in oil painting at the academy. She and her classmate, 27-year-old Wang Yingying, share a messy workspace littered with paints and dozens of finished and half-finished canvas paintings resting in every corner.
Liu, who previously graduated with a Bachelor's degree in Education from Shandong province, decided to further her studies after spending time as a housewife and raising her child - making art was a dream of hers, she says.
"I never had the thought of becoming a student again until I saw there were a lot of people pursuing further education, so I was inspired to join the crew."
Wang, on the other hand, says she knew she wanted to pursue a creative path at a young age. She is "fascinated with the medium of art and its language."
Both students agree there are various elements, good and bad, which make Beijing an interesting city to live as an artist.
Related:
Yishu 8 Award encourages budding Chinese artists