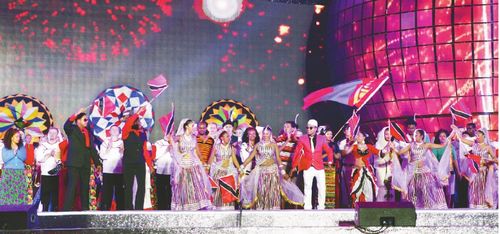 The opening show of the ninth China International Folk Art Festival in Yichang. [Photo/ Chinanews.com]
With art, friendship and peace as the theme, the tenth China International Folk Art Festival will be held in Xining - the capital of Qinghai province - from August 8-13. It will no doubt be teeming with festive spirit and continuous singing and dancing, with strong ethnic influences.
There will be three major events during the festival. The opening ceremony will be held at the Qinghai Grand Theatre on August 8, followed by a show the next day. Chinese and foreign art troupes will be divided into three groups and embark on a two-day tour around Xining on August 9. And also, the closing ceremony and artists' party will be held at the Xining Folk Stage on August 12.
The 2016 festival will be co-hosted by the China Federation of Literary and Art Circles (CFLAC) and the Qinghai provincial government. More than 260 artists from 12 countries will participate.
The China International Folk Art Festival was set up in 1990 with approval from the State Council. It is held triennially by CFLAC and a domestic city. To this day, it has attracted 137 folk art groups from 58 countries, more than 3000 artists and millions of spectators.