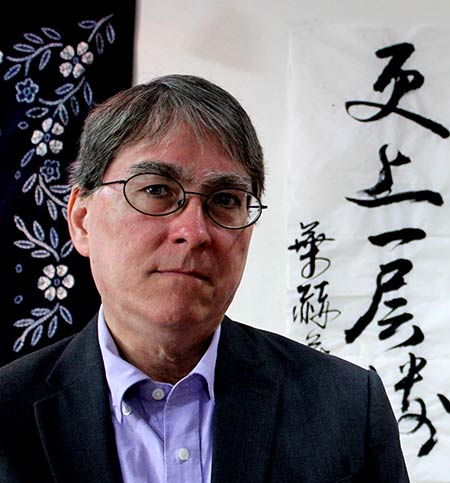 US author David Moser shares with Chinese-language learners his insight and less-known facts about the language in his book A Billion Voices. [Photo provided to China Daily]
A Billion Voices: China's Search for a Common Language tells the story of the creation of Putonghua, or Mandarin, which is an interesting read for both Chinese and foreigner students of the language.
The book is written by American linguist David Moser, who has spent more than 30 years studying Chinese. It is now only selling as an e-book but will be available in paperback in October.
Currently, Moser is teaching at Capital Normal University in Beijing, where he coordinates a program for foreign students coming to China for summer courses.
There are more than 100 million people studying Chinese overseas, according to Xu Lin, executive director of the Confucius Institute, which provides Chinese language classes around the world.
"When people say Chinese is so difficult, what they really mean is that Chinese characters are difficult to learn," says Moser.
"I think there's great confusion even among Chinese people between spoken language and script."
Unlike most European languages which are largely phonetic, Chinese has a writing system that is separate from speech, making it possible to pass on the knowledge within different regions and through generations. Nevertheless, the written language wenyanwen in the past, or literary language text, is extremely difficult to learn for ordinary people.
When it comes to the spoken language, there are more than 100 dialects, among which many are unintelligible between each other, which makes communication difficult between people from different areas.
In the book, Moser takes readers back to the early 1900s to see how Chinese intellectuals tried to reform the language after the fall of the Qing Dynasty (1644-1911).
"It was a group of very smart people getting together in a room to figure out how to form a unified language and to solve the problem of literacy," says Moser.
"Since they didn't have the scientific tools, it took them a long time to do it, and they made some mistakes along the way."
One of the radical initiatives was to replace the Chinese characters with the Roman alphabet proposed by many intellectuals during the May Fourth Movement, which advocated Western notions such as "science" and "democracy".