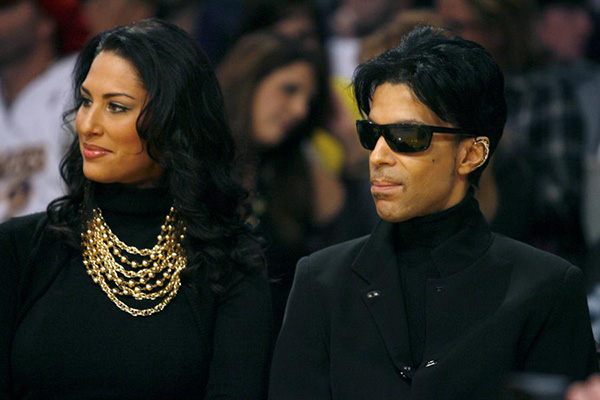 Musician Prince (R) attends the NBA basketball game between the Los Angeles Lakers and the Boston Celtics at Staples Center in Los Angeles, US December 25, 2008. [Photo/Agencies]
'Private person'
An intensely private person, Prince sold more than 100 million records. He was inducted into the Rock and Roll Hall of Fame in 2004, and his most recent album, HITnRUN: Phase Two was released in December 2015.
Prince became a Jehovah's Witness about 15 years ago, and was a strict vegan. In 2009, he told PBS television about being born an epileptic and suffering seizures as a child.
He also said he was teased in school, and that "early in my career I tried to compensate by being as flashy as I could and as noisy as I could."
Prince's Oscar was for best original song score for Purple Rain, the 1984 movie in which he also starred. In 2007, he played the Super Bowl in one of the most celebrated such performances.
While he was more accustomed to sold-out arenas, two years ago Prince played perhaps his most intimate gig in the living room of British singer-songwriter Lianne La Havas' London home with his band, 3rdeyegirl, Billboard said.
"We'll work our way up, if people like us, to bigger venues," Prince quipped then.
His music was marked by sexually charged lyrics and explosive live performances, while his private life was marked by a string of romances linking him with the likes of Madonna and actresses Kim Basinger and Carmen Electra.
Prince was married twice: to his backup singer, Mayte Garcia, in 1996 and then to Manuela Testolini in 2001. Both marriages ended in divorce, and a son he had with Garcia died a week after birth in October 1996.
"I loved him then, I love him now and will love him eternally," Garcia told People magazine. "He's with our son now."
Born in Minneapolis as Prince Rogers Nelson on June 7, 1958, he is said to have written his first song at age 7. As well as singing and writing, he played multiple instruments, including guitar, keyboards and drums.
In a 1998 interview with Reuters, Prince said he ignored critics and focused on a quest for great music. "I just do what I feel I'm supposed to do," he said.
Related:
Prince anchors memoir to early memory