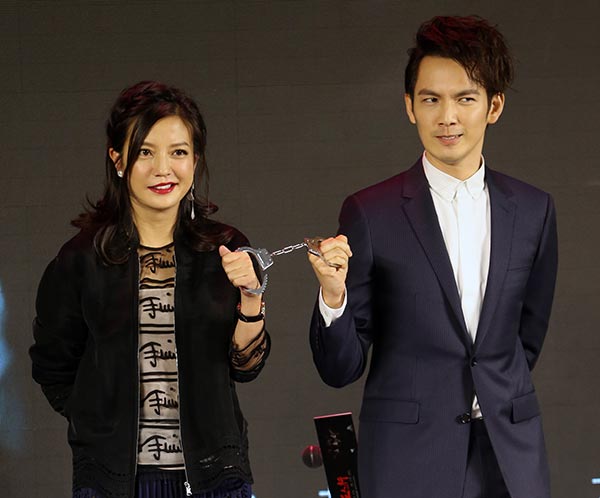 Johnnie To's upcoming crime thriller, Three, stars Zhao Wei and Wallace Chung. [Photo by Jiang Dong/China Daily]
Johnnie To, best known for stylized crime thrillers, is among the few Chinese directors who is recognized in North America, a market not kind to non-English
film
s.
And, the iconic figure in Hong Kong cinema, whose, big-budget romance Office failed last year, is returning to his roots with a new film, which will premiere on June 24. It was announced in Beijing.
Three, directed by To and produced by his partner of decades, Yau Nai-hoi, is set in a hospital. The film focuses on the conflict between a surgeon, a policeman and a gangster, who all have their dark secrets.
The thriller stars veteran actress Zhao Wei as the brain surgeon, Hong Kong box-office favorite Louis Koo as the policeman and actor-singer Wallace Chung as the gangster.
"It (the film) won't have lots of spectacles and heavy stunts. In nearly half of the scenes, Wallace lies on a bed and relies on speech and facial expressions to develop the plot," says To in his typical Cantonese-accented Mandarin.
While the film was a challenge for Chung, a heartthrob in a dozen romance dramas, To also made the filming challenging for another 200 actors and members of the cast and crew because he shoots without a script.
The main shooting took place in a "hospital" built by the props team in Guangzhou, capital of South China's Guangdong province.
"As we had no script, we did not know how the story would develop," says Zhao, who shot to prominence in the 1998 TV series My Fair Princess.
To, 61, whose career spans 36 years and more than 40 films, has typically conceiving the plot during the shoot, fleshing out the actors' role on the spot.
But despite the randomness with which To works, he is very particular about details.
Zhao was coached by a brain surgeon for more than a month on how to perform an operation.
Also, to make the scenes more vivid, most of the beatings were real.
As for the future, 20 years after establishing his studio, Milkway Image Ltd in Hong Kong, To, the founder, is looking beyond its shores.
Related:
Chaplin's life and work come together nicely in Swiss project