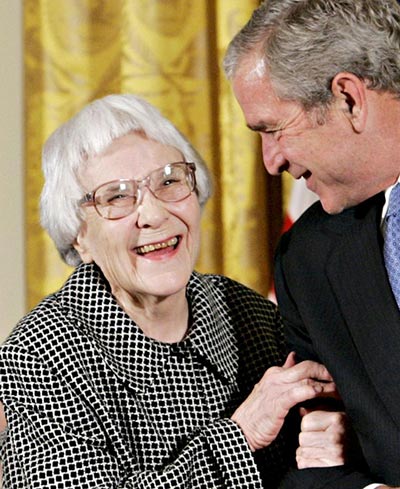 US President George W. Bush smiles before awarding the Presidential Medal of Freedom to American novelist Harper Lee (left) in the East Room of the White House, Washington, in this November 5, 2007 file picture. [Photo/Agencies]
Harper Lee, who wrote one of America's most beloved literary classics,
To Kill a Mockingbird
, and surprised readers with a second book about racial injustice in the US South after living a largely reclusive life for decades, died at the age of 89 on Friday.
To Kill a Mockingbird was published in 1960 as the civil rights movement was heating up and its unflinching examination of racial hatred in the South made it especially poignant. Its theme could be summed up with the advice that Atticus Finch, the noble lawyer, gave his young daughter, Scout: "You never really understand a person until you consider things from his point of view - until you climb into his skin and walk around in it."
Related:
Glenn Frey, founding member of the Eagles, dead at 67