Designers target world's richest women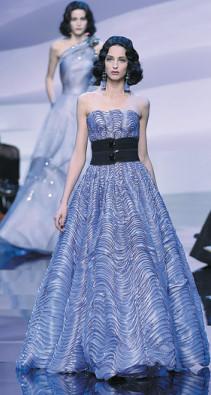 A model presents a gown from Giorgio Armani Prive at a 2016 spring/summer viewing in Paris.[Photo/Agencies]
With smart outfits and sweeping evening gowns, designers showcased their luxury creations at the Paris haute couture fashion shows this week.
From France's Chanel to Italy's Versace, more than 20 fashion houses showed their spring-summer 2016 haute couture collections, their target some of the world's wealthiest women.
On Monday, Dior presented its first haute couture show since designer Raf Simons left in October, with a collection put together by the brand's inhouse team and described as being for the rushing modern woman.
Referring to founding designer Christian Dior, who the brand says was "a superstitious man with absolute faith in his lucky star", the collection was full of symbols and lucky charms on clothes or necklaces.
The show began with shoulder-baring designs and soon evolved into outfits made of contrasting cuts and textures, rich in embroidery on tops, skirts as well as transparent chiffon dresses. Dior's trademark bar jacket was given a masculine look while coat versions showed off shoulders.
The label has yet to announce a successor to Simons, who left after some three years to develop his own label.
"Dior is a permanently moving house ... there has never been a standstill, it's a permanently moving train and from one designer to the other, we can even see some acceleration," chief executive Sidney Toledano says. "So I am pretty confident about the future."
Atelier Versace kicked off the shows on Sunday with a luxury collection inspired by sporty chic.
Models strutted down the catwalk in figure-hugging designs, namely gowns, slashed at thigh, draped at the back or cut along the body and tied together with ropes of Swarovski crystals.
Designer Donatella Versace opened the show, dubbed "athletic couture" in a palette of white - bomber jackets and trouser or skirt combinations as well as short dresses - decorated with fluorescent yellow or orange straps.
Colors then turned to electric blue, orange and black.
Versace continued the cut and tied together look, described "as if exploded, then held together with extravagant knots of Swarovski ropes", on tuxedos, baring arms and sides.
The looks were accessorised with sandals with straps knotted at the ankle, some sparkling.
"This is a collection for all women who walk their own path," Versace says.