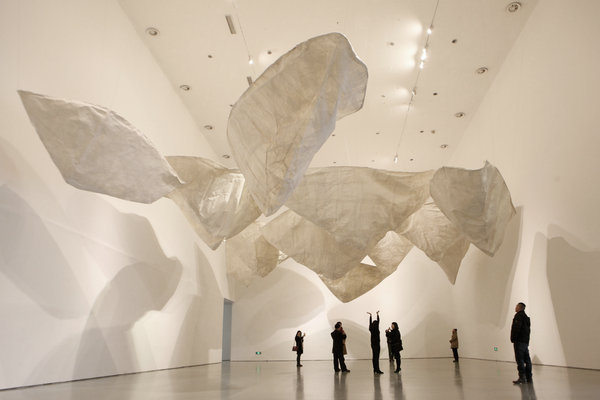 Wang Yizhou's installation High Mountains is the centerpiece of his solo show, Insight, in Beijing.[Photo provided to China Daily]
Wang Yizhou seeks to marry different art philosophies in his latest works, Lin Qi reports.
Wang Yizhou, an artist who uses various mediums to express himself, has created works that appear simple but are infused with complex thoughts.
Both his ink paintings and installations attempt to engage his viewers in dreamlike sequences, an experimental spirit he nurtured through cross-cultural training in art.
In his teens, the now 48-year-old Shanghai-based artist had learned calligraphy and traditional ink painting. As he grew up, Wang became an avid researcher of Huang Binhong, an art historian and modern master of Chinese painting. Then, realizing his mind was rooted in Chinese cultural traditions, Wang looked to expand his vision by studying oil painting in college.
In his works, Wang seeks to present his vision of the world by marrying two different streams-the soft, curved lines of Chinese painting and the geometric lines of Western minimalism.
Wang's current solo exhibition, titled Insight, which runs through March 12 in Beijing, shows his latest experiments at integrating art philosophies of the East and the West, as well as traditional and contemporary art forms.
"Wang was an established painter of realistic oil art already. But he dared to walk out of his comfort zone," says Gao Peng, director of Today Art Museum, where the show is being held.
Wang made breakthroughs in contemporary art, something unfamiliar to artists of his generation in China when they started to understand the field in the 1980s and '90s, Gao says.
The centerpiece of Wang's Beijing display is the installation High Mountains, which has several structures sculptured like mountains and wrapped with xuan zhi (rice paper), and hung midair in upside-down positions.
The creator also invites his viewers to explore a connection between the three-dimensional "mountains" and his other mountain-and-water ink paintings on show.