HKK puts a London shine on Chinese New Year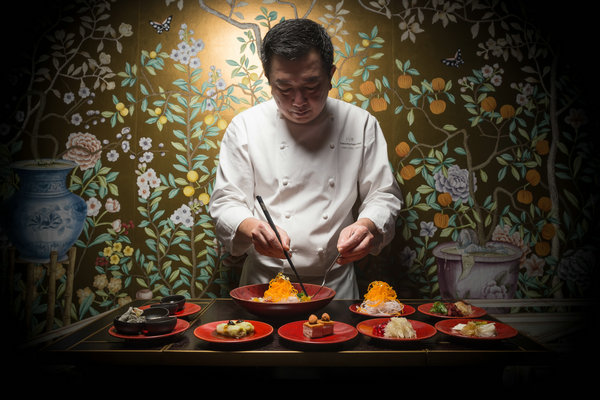 Chef Tong Chee-hwee prepares Spring Festival treats at his Chinese restaurant, HKK, in London.[Photo provided to China Daily]
"In some parts of China, it is tradition to eat and gift apples during Chinese New Year," says chef Tong Chee-hwee, "as the word apple in Chinese 'pinguo' sounds like the word 'peace'."
My friend and I are in London for Spring Festival, celebrating the holiday at the celebrated Chinese restaurant, HKK. That's the uber-upscale sibling of Hakkasan, the popular eatery that opened in London with the award-winning Tong as head chef in 2001. It won a Michelin star within a year that it retains today, and Hakkasan has since opened branches in Shanghai, San Francisco and elsewhere.
My excitement about apples betrays an embarrassing habit-I have skipped down through the special eight-course New Year menu to see what's for dessert. Happy day! There are two, including the green apple cardamom crisp noodle that has captured my fancy.
But all in good time.
Our Year of the Monkey starts with the Prosperity Platter, starring a fresh salad mix of crisp noodles, spicy greens, sprouts and jewel-toned pomegranate seeds, all lightly dressed with plum sauce and olive oil. It's served with a sparkling Japanese sake that's only 5 percent alcohol and very refreshing. Side plates offer nibbles of fatty pork with a crispy top, and a smoked Japanese oyster wrapped in Chinese cabbage.
Chef Tong, who now spends most of his time at HKK, says a traditional platter like this is the sort of dish that Chinese guests are looking for in London, though in China each city has its own food heritage.
Then comes Tai Ji Supreme Seafood Soup, actually a pair of soups in the same bowl: A brilliant yolk-yellow crab-roe soup and a rich white broth of flaky fresh crab are presented in a yin-yang design. Yin and yang play a significant part in Chinese cuisine as well as philosophy, reflecting the importance of balance and harmony in ingredients as well as in textures and flavors.