New restaurant branch delivers Jumbo-sized delight
Updated: 2016-01-29
( China Daily )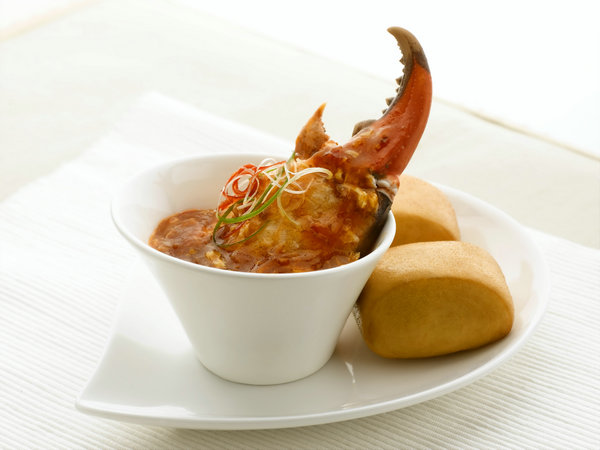 Singapore chilli crab claws with steamed buns.[Photo provided to China Daily]
Ask any Singaporeans what they think when they hear the word "jumbo", and they would almost certainly associate it with the island nation's most famous seafood restaurant chain and its legendary crabs.
Established almost 30 years ago, Jumbo Seafood has quite literally come a long way to where it is today - Shanghai. Following up on the success of its two restaurants in IAPM Mall and Raffles City, the brand in mid January opened its third branch, in the city's Lujiazui financial district.
This new branch in the IFC Mall, though smaller in seating capacity than the other two Shanghai outlets, offers a more refined dining experience that caters toward business executives and professionals. The menu items are largely unchanged, except for a handful of dishes particular to this location.
One of the standout new dishes is the chilled wasabi crab meat served with stuffed curried lychee for 48 yuan ($7.30). The crispy crust surrounding the lychee that's stuffed with a savory curry provides an addictive crunch, and when eaten together with the wasabi crab salad on the side, this dish becomes a multi-textural delight that primes the tastebuds for what's to come.
Another new dish, the deshelled crab claw (148-158 yuan), is designed for the outlet's target audience, diners who would likely prefer to keep their hands clean while talking shop over a meal at Jumbo.
There are three saucing variations of the dish to choose from: the brand's legendary chili crab sauce, an aromatic black pepper sauce, and a distinctive mapo gravy that impresses with its blend of sour and spicy flavors.
The excellent crabs are what made Jumbo famous in the first place - this crustacean provides a big chunk of the chain's revenue, according to Ang Kiam Meng, CEO of Jumbo Group. Succulent, sweet and having the perfect level of firmness, this dish makes for a tantalizing main if its somewhat hefty price tag price is not an issue.
But apart from its famous jumbo-sized crabs, the eatery prides itself for offering truly authentic Singaporean cuisine, both in terms of the types of dishes and their taste. Any Singaporean foodie will tell you that the true measure of authenticity often lies not in the bestsellers - in this case the seafood - but in the most innocuous things, such as the spicy condiment known as sambal belachan.