China's new year on a plate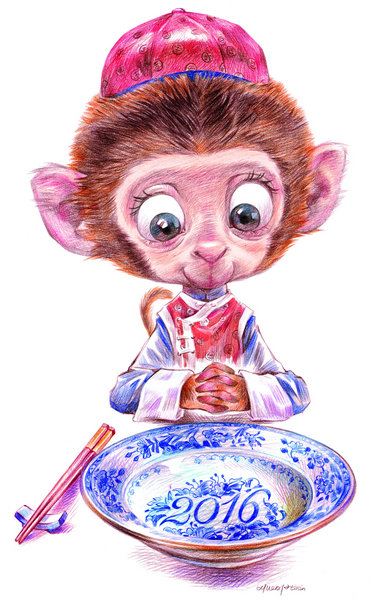 [Picture by Li Min/ China Daily]
Judging by the global press coverage, 2015 was not a great year for restaurants in China.
The restaurant that seemed to get the most international ink: Modern Toilet, where diners in Beijing, Taipei and Hong Kong "sit on toilets, drink out of urinal-shaped cups and eat curry out of toilet bowls". The economy is still slowing, and the government says banqueting and gifting are still no-nos, though French cognac importers think they see light at the end of the tunnel. Meanwhile, baijiu at home and abroad is getting lighter and fruitier, to attract a young and increasingly female drinkership. Star chef Alan Wong slipped into Shanghai with his Hawaiian fare in late December, but we're still looking on the mainland for Michelin-starred French chef Alain Ducasse, who has program for food in outer space but has yet to open a long-rumored restaurant in Beijing. Ditto Jamie Oliver, Gordon Ramsay and other culinary glitterati. And while Michelin-starred chefs continue to parachute into the mainland's top eateries for special events, the French guide continues to love only Hong Kong among China's cities.
What CAN we look for in the mainland food scene? Some sure bets and likely starters:
LEBANON: Black Sheep restaurants newest concept, Maison Libanaise, opens in stages starting this month in Hong Kong's Central district. It's a three-story bonanza of the vibrant food, drinks and culture of Lebanon: an all-day wholesome takeaway on the ground floor opens first, followed by a first-floor restaurant with traditional mezze and hearty main dishes for lunch and dinner, and a cozy rooftop wine bar, La Buvette, with a list featuring every winery in the country. Lebanon's wines-which have been produced for more than 5,000 years-are creeping into restaurants and bars on the mainland as well, including those of Chateau Ksara, built by French monks in 1857.
CELLPHONE-DRIVEN DINING: A recent Bloomberg survey of 20 of the world's leading chefs and restaurateurs shows that many now welcome the use of the cameras to show off dishes on social media. Some French chefs have been particularly opposed, fretting that phones get more attention than food. Chefs in China probably never even tried to fight this trend among diners, and the global majority now seem to echo the view of Gaston Acurio, chef-patron of Astrid & Baston in Lima, Peru: "We don't like much the idea of everybody using their phones in the restaurant, either for talking or photos, but we like the idea of telling customers what to do even less."