China's new year on a plate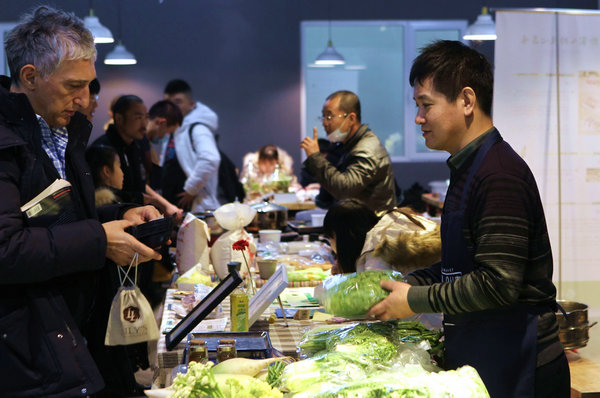 Individuals and restaurant chefs check out the fresh produce and crafted food products at Farm to Neighbors weekend market at Beijing's Grand Summit mall.[Photo by Guan Xin/ China Daily]
MORE DINNERTAINMENT:
Latin restaurants are offering salsa lessons with dinner. There's dog yoga on weekends at Hong Kong's Opendoor Cafe & Courtyard. China doesn't have a restaurant that launches roasted chickens through the air with a catapult onto the spiked helmet of a waiter on a unicycle. But Bangkok does, and somebody here will copy that. Soon.
AUTHENTICITY: At a recent tasting at Beijing's Q Mex, we swooned over mounded servings of "green butter". That's what chef Marcus Medina calls guacamole, the avocado mash now beloved as an appetizer by chip-dippers around the globe. "Mashed avocados really have no flavor," he says. "Chefs see it as a blank canvas to do something creative." In this case, "something" was bacon and balsamic syrup. While Medina's tasting menu had cheffy flourishes, his overall agenda was to make dishes more like he'd make them at home. The assumption: Chinese diners, who are curious and travel abroad more than they once did, will enjoy the real deal and not a watered down knockoff with Chinese characteristics. (OK, chefs also like to cook what they like to eat.) When Medina expands the Q Mex menu in this direction later this year, Beijingers should be on the lookout for his causa, crispy codfish in a spicy jalapeno butter sauce.
On the Chinese food front, a semi-official agency is pushing to standardize the preparation of Chinese food globally, lamenting shortcuts and cheap ingredients in classic dishes.
FOOD AS CULTURE: There's nothing new about it, but some of the creative spins are brilliant. For instance, for two months starting March 1, chef Paul Lau of Michelin two-star Tin Lung Heen (at the Ritz-Carlton Hong Kong) will present a spring tea degustation menu featuring Chinese tea-infused dishes to welcome spring, the season of rebirth, fertility and abundance. Deeply rooted in Chinese dining culture, tea is believed to have health benefits ranging from aiding digestion to preventing heart diseases. President Xi Jinping's call to take Chinese culture to the world will find no more welcome expression than through food.
WINE SENSE: Sales aren't exploding like they did for several years, but wine experts in China see a seismic shift in the market as quality mid-range wines gain market share over Chateau Impress Moi and other high-end labels that once targeted fat wallets, banquets and gift-buyers. Now more wine is being purchase by folks because they like to drink it. Restaurant wine lists are taking notice-even in Beijing, where having a choice of wines by the glass is becoming less of a scavenger hunt.