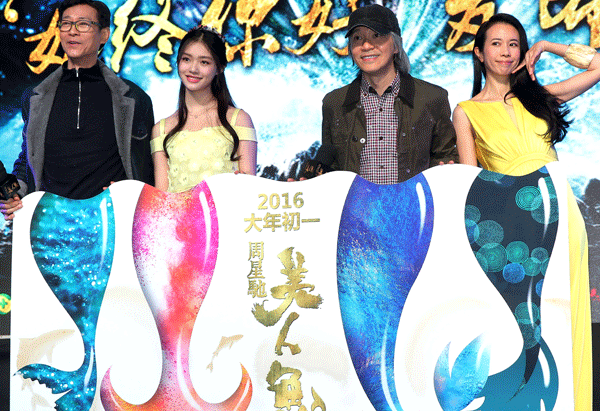 Hong Kong director and comedian Stephen Chow (second from right) attends a reception for the release of the theme music for The Mermaid, a sci-fi comedy, on January 18 in Beijing. [Photo by Jiang Dong/China Daily]
In a season when blockbusters are deemed standard, The Mermaid has proved to be so splashy that it wiped clean a slate of records and made numerous headlines.
The Stephen Chow comic fantasy, which opened on Lunar New Year's Day (Feb 8), set a record with seven consecutive days with at least 230 million yuan ($35.2 million) in receipts each day. By early Tuesday evening, it had raked in a total of 2.1 billion yuan in its nine days of release, poised to overtake Monster Hunt, which at 2.4 billion yuan is the reigning champion in China's box-office tally.
Anticipation runs high that The Mermaid could be the first film, domestic or foreign, to reach the new landmark of 3 billion yuan in gross receipts in the world's fastest-growing film market.
The supernatural tale with an environmental message has wowed moviegoers with zany Chow-style slapstick and moments of tenderness. Maggie Lee, film critic for Variety, a Hollywood trade magazine, called it "pure enchantment". On the home front, critics seemed uncertain, wavering between cautious approval and rehashed concerns about Chow's losing his touch.