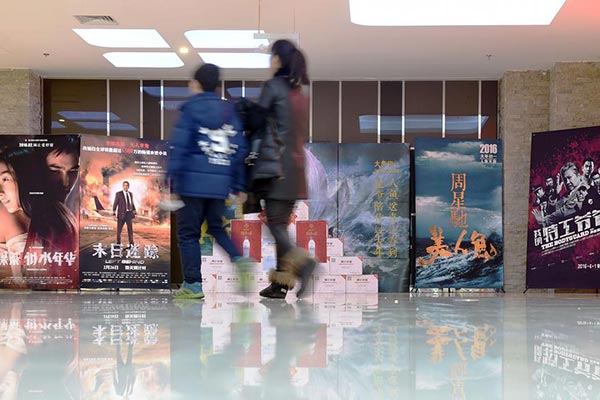 Chinese moviegoers are seen at a cinema in Shenyang city, Northeast China's Liaoning province, Feb 14, 2016. [Photo/Xinhua]
Although most watchers predicted China's box office would score new highs during the Spring Festival holiday, few of them expected the figures to soar so astoundingly.
Reports from the country's top movie regulator show that over the week-long holiday (from Feb 8 to 13), plus Valentine's Day, movie theaters raked in a total 3.61 billion yuan, a sharp 87 percent rise, year-on-year. The strong haul makes the just-concluded Chinese Lunar New Year holiday the biggest-ever such period in history.
Considering the Spring Festival holiday roughly accounted for 4 to 5 percent of annual box office receipts in recent years, some optimistic industry insiders say China has a big chanceto overtake the United States as the world's biggest movie market in the Year of the Monkey. Nevertheless, major predictions of the timing revolve on 2017 or 2018.
The financial feast owes its bounty to three blockbusters.
Overwhelmingly led by Stephen Chow's Mermaid with 2.1 billion yuan, the holiday box office included two other hits that raised less than half as much: Wong Jing's The Man from Macau III at 850 million and Soi Pou-cheang's The Monkey King 2, in third place with 840 million yuan as of Tuesday, according to the box-office tracker Cbooo.cn.
An interesting coincidence: all three films are directed by Hong Kong veterans.
In addition, multiple household names in the Hong Kong showbiz circle can be seen in the casts. The gambling caper The Man from Macau 3 boasts an A-list ensemble cast, including Chow Yun-fat, Andy Lau and Jacky Cheung. Hong Kong top singer-actor Aaron Kwok plays the title role of The Monkey King 2.
Despite struggling with ups and down in past decades, Hong Kong filmmakers are now enjoying a golden era in the mainland, a film market with the fastest growth in the world.
"China's booming market is somewhat likes a gold mine. All the major film studios across the world are striving for a piece of the big cake," says Hong Kong director Yuen Woo-ping, in an interview with China Daily in early February.
He says it has formed a cultural phenomenon that the top Hong Kong filmmakers have transferred to the mainland.