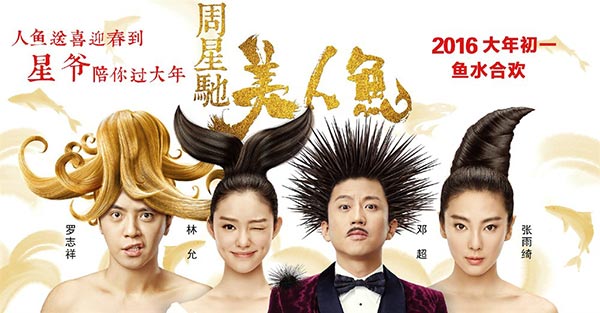 Poster of Mermaid. [Photo/Mtime]
China's box office totaled 3 billion yuan ($461 million) during the six days of the Spring Festival holiday, the highest compared with previous holidays, the film authority said Saturday.
The box office from Feb 8 to 13 increased by 67 percent over the same period of last year, said the State Administration of Press, Publication, Radio, Film and Television in a statement.
Three Chinese films contributed to 93.5 percent of the box office in the past six days. Mermaid, directed by Hong Kong comedian and director Stephen Chow, led the box office by 1.46 billion yuan, while From Vegas to Macau III, starring Hong Kong actors Chow Yun-fat and Andy Lau, scored 680 million yuan.
The Monkey King 2 took the third place with the box office of 650 million yuan.
Kung Fu Panda 3 also achieved a good box office of 200 million yuan during the holiday with its total box office reaching 812 million yuan since the screening of Jan 29.
China's box office reached about 44 billion yuan in 2015, up 48.7 percent over that of 2014, while the number of film-goers totaled 1.26 billion throughout the year, a year-on-year increase of 51.08 percent.
China has been one of the most fast-growing film markets across the world, said Prof Yin Hong, with Tsinghua University.
"As more cinemas open in smaller cities and towns and going to movies becomes a lifestyle in those places, China may overtake the United States to be the world's largest film market in the next two to three years," Yin said.
Related:
China's box office sets record day high
Kung Fu Panda 3 tops box office for second consecutive weekend