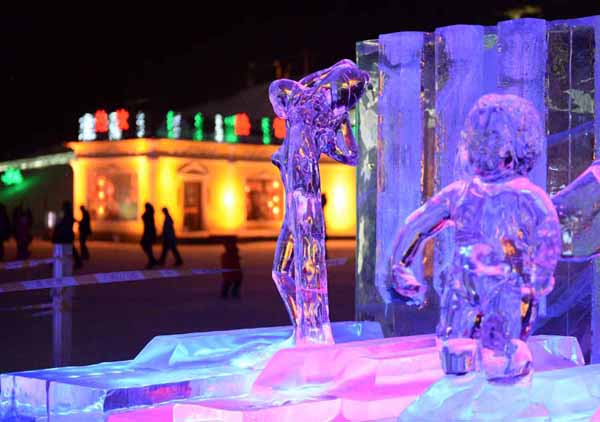 Tourists view the shimmering ice sculptures in Harbin, capital of northeast China's Heilongjiang province, on Feb. 8, 2016, the first day of Chinese Lunar New Year. [Xinhua/Wang Kai]
In China's "ice city" -- Harbin, capital of northeastern Heilongjiang province, a group of sculptors have been making ice lanterns for decades.
With 30 years of ice lantern designing experience, Wang Tiejun, 54, remains humble.
"I'm not the most experienced. Many master designers are in their 70s. Now, with young, middle-aged, and senior designers, China's ice lantern art remains the best in the world," he said.
Ice lantern art began in China in Zhaolin Park in downtown Harbin, when the city staged its first ice lantern exhibition in 1963.
Designs were initially quite simple, such as ice candles or ice cubes. They have become more complicated and often feature famous landmarks, such as the Great Wall or the Eiffel Tower, said Tan Jingxin, who works at the Harbin ice lantern arts center.
The 42th exhibition opened in December 2015 and so far has received more than 30 million visitors.
"The designers not only design for the Harbin exhibition, but also for some overseas festivals," Tan said. The center's 30 professional designers have worked on 70 large exhibitions in 30 countries, including some in tropical countries such as Egypt. The latest overseas show was held in the Republic of Korea in December.
Heilongjiang's cold weather, with January temperatures regularly below minus 30 degrees Celsius, is the perfect environment for making ice lanterns. "Natural ice can be found or made easily in Harbin, and the lanterns can be kept outdoors," Wang said.
Abroad, Wang and other designers use man-made ice in exhibition halls with a temperature lower than minus 10 degrees Celsius.
"It is a completely new experience for people living in tropical countries. They can enjoy the wonderful ice lanterns while escaping from the heat outside," Wang said. "But they have to wear thick clothes they never need in their daily lives."
"We have been coming up with ideas to cater to foreign visitors' taste. For example, we have designed ice lanterns themed on some of the most famous architecture in the world," Wang said.
Designers also use typical Chinese icons, such as dragons, Terracotta warriors, and Chinese architecture including pavilions and pagodas.
Invented by farmers on the freezing Songnen Plain in northeast China, ice lanterns give a glimpse of the spartan lives of the ancient Chinese. Chiseling out a hole in an ice block provides a way to protect oil lamps from the wind.