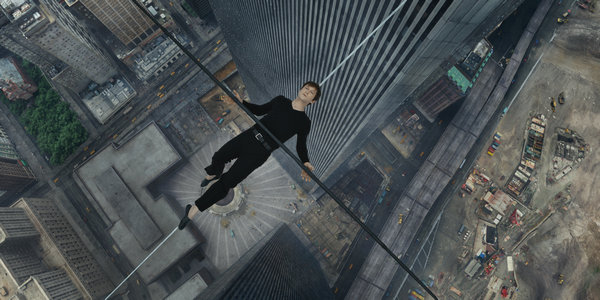 The Walk is adapted from the true story of French artist Philippe Petit (played by Joseph Gordon-Levitt).[Photo provided to China Daily]
In 1974, Frenchman Philippe Petit walked illegally on a high wire strung between the twin towers of the World Trade Center in New York.
Very few Chinese back then knew about it. But today they are watching The Walk, a Hollywood film based on the dizzy feat. Going by the money generated and online reviews, they seem to be enjoying it.
The 2015 film premiered on the Chinese mainland on Friday and quickly beat domestic rivals to take the second-highest slot in the January box office.
Cbooo.cn, a live box-office tracker, says The Walk that stars Joseph Gordon-Levitt in the role of Petit, grossed 52.7 million yuan ($8 million) from the Chinese box office by Monday, following Star Wars: The Force Awakens, which made 762 million yuan.
Major movie-review sites in China, such as Douban and Mtime, gave The Walk scores around 7 on a scale of 10.
"The last 30-minute walk on the wire, around 400 meters above the ground, is both horrifying and breathtaking," Huang Yuanqing, a Beijing viewer, said after watching last Thursday's preview for media and a limited audience.
"I had to clench my fists to conquer my anxiety."
Interestingly, a number of other watchers called the biopic drama "more like a horror film", as the 3-D visual effects are almost real-life, making audiences "walk" with the protagonist.
In the film's most nerve-tingling moments, Gordon-Levitt's Petit realizes his dream of getting on the world's then-tallest buildings. In stunning scenes, he is seen kneeling, lying, dodging the police or simply looking at crowds on the streets below.