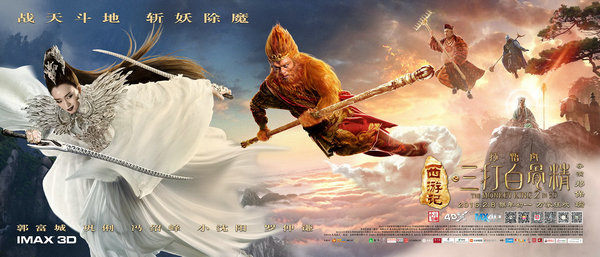 Hong Kong pop singer-actor Aaron Kwok and veteran actress Gong Li at a promotional event for the upcoming fantasy epic, The Monkey King 2. Gong plays Baigujing, and Kwok plays the Monkey King in the film.[Photo provided to China Daily]
China's lucrative market has become a great attraction for filmmakers around the world in recent years. But domestic talent is now looking overseas: So can Chinese-language movies make their presence felt abroad?
The numbers are not promising. While China last year earned record box-office receipts of 44.1 billion yuan ($6.68 billion), up nearly 50 percent year on year, only 2.77 billion yuan, or 6 percent, came from overseas.
With the Year of the Monkey on the horizon, China is pinning its hopes on the Monkey King, the best-known monkey in the history of Chinese literature and cinema.
A project backed by the country's regulator of the movie sector plans to release the upcoming fantasy epic, The Monkey King 2, in 100 cities in 30 countries across four continents on Feb 8, the first day of Chinese Lunar New Year. The film will be subtitled into the languages of the nations in which it's shown.
Besides, another four big-budget movies featuring the Monkey King will come out this year.
As of now, the 16th-century novel Journey to the West, which features the Monkey King, has been adapted into at least 100 screen titles in China and countries such as Japan and the United States.
Critics and industry sources contacted by China Daily say they believe the Monkey King is the biggest "IP" when it comes to attracting Western audiences.
In China, the term "IP" refers to either a novel, song, or game whose fans can be turned into potential box-office returns.
Meanwhile, The Monkey King 2 is backed by a huge budget of up to 450 million yuan from 15 studios and a glittering cast led by top stars.
The cast includes veteran actress Gong Li (Baigujing, or White Skeleton Demon), Hong Kong pop singer-actor Aaron Kwok (the Monkey King), Wolf Totem's star Feng Shaofeng (the Monkey King's Buddhist monk master Tang Seng) and Chinese-American singer-actor Christian Rand Phillips (a human king).
As the only Chinese actress who has starred in lead roles in award-winning movies at the Europe's top three film festivals-Cannes, Venice and Berlin-Gong Li is no doubt among the most-recognized Asian faces in the West.
Gong, who plays the demon queen, says: "I've always wanted to play a role in a film based on Journey to the West. I know Baigujing is a household name, with the plots and details familiar to the Chinese, but I promise my character will be quite different from the stereotype."
And Hong Kong director Pou-Soi Cheang may fulfill her dream as he wants a good balance between being faithful to the original and trying something unlikely.