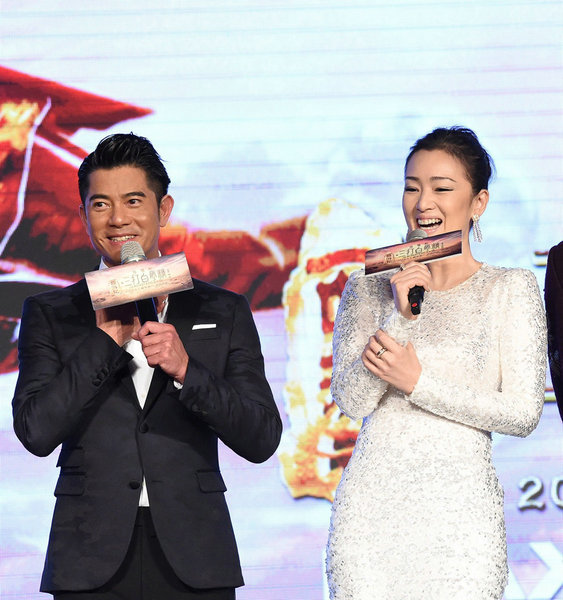 Hong Kong pop singer-actor Aaron Kwok and veteran actress Gong Li at a promotional event for the upcoming fantasy epic, The Monkey King 2. Gong plays Baigujing, and Kwok plays the Monkey King in the film.[Photo provided to China Daily]
In the Ming Dynasty (1368-1644) novel, a White Skeleton Demon eats humans to attain immortal life.
So, when the Monkey King's Buddhist monk master becomes her latest target, the demon disguises herself as a human to cheat the monk.
"If you read the novel, you'll find an interesting phenomenon. While almost all the other demons and spirits in the story are transformed from animals or deities, Baigujing is the only demon who has been a human in her previous life," says Cheang in an interview with China Daily.
The veteran Hong Kong director has a reason for the demon's viciousness.
In the movie, the enchantress, who has had a miserable past, seeks revenge on humans who have abandoned and cheated her.
A dose of Hollywood-style humor has also been added to the film's dialogues, which should make the movie more palatable to a global audience.
With 1,500 scenes created using digital effects, the movie has many spectacles-from a magnificent castle and gigantic monsters to multiple fights.
"Most Chinese fans in their 30s have a collective memory of the Monkey King and his heroism as a result of the hit series (aired by State broadcaster CCTV in 1986). We want to highlight this emotional connection, and also grab younger viewers," says Cheang.
The latest data gathered by Internet behemoths like Tencent and Alibaba have found that the average age of China's main moviegoers is around 21.
Cheang's directorial efforts satisfied investors in the Monkey King franchise's first installment, which topped the box-office charts during the 2014 Spring Festival holiday.
So, can the 43-year-old director do it again?
While industry sources believe the movie will recoup its investment thanks to its star cast, visual effects and the story, they feel that there is still some way to go when it comes to winning the hearts and minds of viewers globally.
As Zhang Hongliu, a movie critic, says: "When a production tries to please viewers of all ages it loses some of its sharpness and could become a mediocre tale."