Memories in the West of China, a noncommercial film directed by Zhao Zhi from Karamay, Xinjiang Uygur autonomous region, held its preview in Karamay on Jan 17 and has been hailed by local audiences.
The film tells the stories of people of different ages and ethnic origins in a 100-year-old village.
It was shot in the Xiaoguai county in Karamay. The leading child actors were all selected from Karamay city and the extras were local farmers and herdsmen from Xiaoguai.
The director, Zhao Zhi, a Karamay native, is deeply attached to his hometown. He, therefore, decided to make a film to showcase Karamay's charms to audiences all around China and help them understand the culture and history of various ethnic groups in Xinjiang.
"The setting and music are so familiar to me that it seems like I am watching my own life on the big screen," said Wang Yinnan, a Karamay resident, after watching the film at Nanhu Entertainment Center along with other 150 audience members.
The final preview of the film will be held in Xiaoguai county on Jan 24, after which it will be released in cinemas all over the country.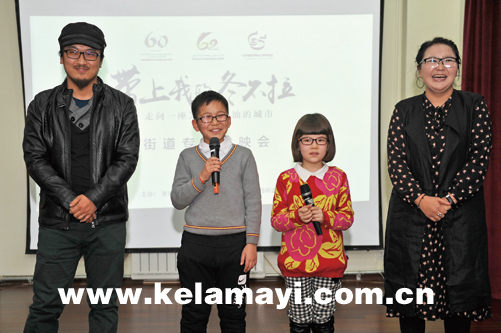 Director Zhao Zhi (L) and actors from the film Memories in the West of China appear on stage at the preview in Karamay, Xinjiang Uygur autonomous region, on Jan 17. [Photo/kelamayi.com.cn]
Edited by Owen Fishwick