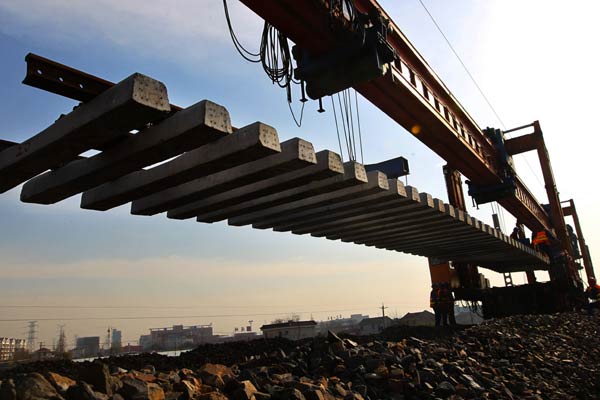 Rail tracks are laid on a route in Nantong, Jiangsu province. [XU CONGJUN / FOR CHINA DAILY]
China's top economic planner plans to invest as much as 400 billion yuan ($61.4 billion) in the first quarter this year to fund local governments' infrastructure projects, according to media reports.
The fund, under a special bond program, is set to boost economic growth as downward pressure persists, Bloomberg cited people familiar with the matter on Tuesday.
The National Development and Reform Commission (NDRC) will allocate more resources in subsequent quarters this year, and the total will be determined by actual economic conditions, said the report.
The Shaanxi Provincial Development and Reform Commission said the western province had been offered 15.6 billion yuan for a total of 220 projects from the special fund, according to a statement posted on its website on Feb 2.
Meanwhile, Qinghai, Fujian, and Zhejiang provinces, as well as Xinjiang Uygur autonomous region, have also announced fund support from the central government, China Business News reported on Wednesday.
"Infrastructure spending should be the key growth buffer so I would not be surprised to see more like this also for things like highways, railways, pipelines," Bloomberg quoted Larry Hu, head of China economics at Macquarie Securities Ltd in Hong Kong, as saying.
"To achieve growth of 6.5 to 7 percent, investment has to grow 15 percent at least," Hu said.
The NDRC launched the 800 billion yuan in a special fund scheme last year, as part of government efforts to bolster infrastructure projects and boost a slowing economy.
The commission approved 280 fixed asset investment projects worth 2.52 trillion yuan in 2015, said Reuters.