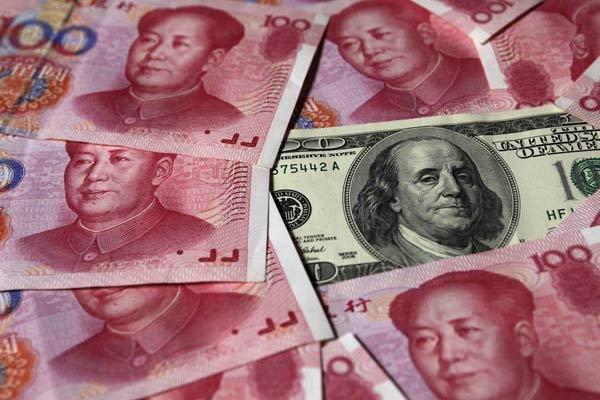 A $100 banknote is placed next to 100 yuan banknotes in this October 16, 2010 file picture illustration taken in Beijing. [Photo/Agencies]
China, the biggest buyer of US Treasury securities, cut its holding in December to a 10-month low, the latest data from the Treasury Department showed on Tuesday.
China reduced its holding by $18.4 billion to $1.2461 trillion in December, coinciding with the country's sharpest monthly fall in foreign reserves.
The country's forex reserves dropped to $3.33 trillion in December, the lowest levels since 2012, according to official data.
Japan, the second largest foreign holder of US Treasury securities, also cut its holding in December by $22.4 billion to $1.1225 trillion.
Net selling by foreign governments of US securities, including Treasuries, agency debt, corporate bonds and stocks, totaled $51.3 billion, marking the biggest monthly outflow on record for official holders, reported Bloomberg citing the department.
Xinhua contributed to this story.
Related reading:
China's yuan firms after reassurance from central bank governor
The yuan surged on Monday after the central bank chief reassured investors there is no basis for persistent depreciation.
The reference rate of the yuan rose to 6.4941 against the US dollar at 7:00 pm, up over 1.2 percent from Feb 5, the previous trading day before the week-long holiday.
The rise dispelled market concerns and came after comments from Zhou Xiaochuan, governor of the People's Bank of China (PBOC), in an interview with magazine "Caixin."
Zhou said that there is no basis for the continued depreciation of the yuan and that "China would not let market sentiment be dominated by speculative forces."
The central parity rate of the yuan strengthened by 196 basis points to 6.5118 against the US dollar on Monday.
The strong performance reversed drops in January when the market was permeated by depreciation talk.
Depreciation pressure has been eased due to sharp declines in the US dollar index and weakening expectations since the beginning of February of a Federal Reserve's rate hike.
Global stock markets and crude prices fell heavily last week. "Given the volatility in overseas markets, the yuan turned out to be a safe haven," said Xu Hanfei, an analyst with Guotai Junan Securities.
China will keep the yuan stable versus a basket of currencies while allowing greater volatility against the US dollar, Zhou said, adding that yuan exchange reform would help the market be more flexible in dealing with speculators.
While China has the world's largest foreign exchange reserves, Zhou said, speculators should not be allowed to dominate market sentiment and it was quite normal for reserves to fall as well as rise.