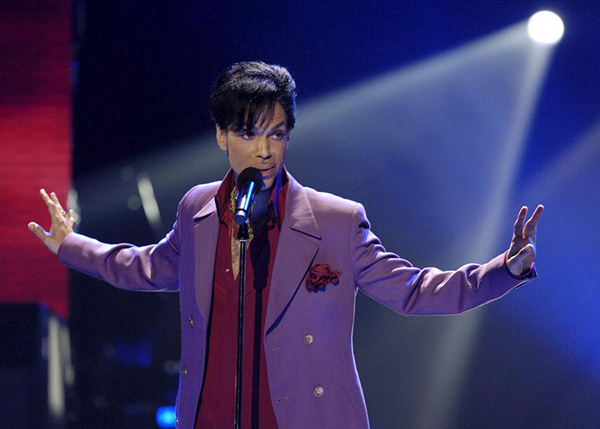 Prince performs in a surprise appearance on the "American Idol" television show finale at the Kodak Theater in Hollywood, Los Angeles, US, May 24, 2006. [Photo/Agencies]
Inventive and eccentric
Prince, whose hit songs also included Let's Go Crazy, I Would Die 4 U, Raspberry Beret, Little Red Corvette and Kiss, was on a US tour as recently as last week.
Last Friday, he was briefly hospitalized with what his representative told celebrity news website TMZ was the flu after his plane made an emergency landing in Moline, Illinois.
The representative said Prince had performed in Atlanta despite not feeling well and felt worse after boarding the plane back to Minnesota, the website reported.
But over the weekend, the musician hosted a party at Paisley Park. One attendee, 26-year-old Jamie Reimann, said Prince appeared after midnight Saturday and played two tunes on a piano in what would turn out to be his final performance.
"It was just five or six minutes. He introduced his doctor ... and asked fans to give him a round of applause and said the doctor was helping him feel better," Reimann said.
"He (Prince) looked fine, but his voice sounded like he might have had a cold or something. He didn't look sickly."
Prince first found fame in the late 1970s. Over the next three decades, he became known as one of the most inventive and eccentric forces in American pop music.
Often making a statement with bold fashion choices, the diminutive, 5-feet 2-inch-tall (1.57-meter) star sometimes appeared on stage sporting ruffled shirts and tight pants or elaborate costumes, including chain mail covering his face, a shimmery orange tunic with a cane, or bikini briefs.
"He was a legend," said another fan, Karen Menardy, 45, weeping outside New York City's storied Apollo Theater, where some passers-by danced in the street as Prince songs played on a portable speaker.
Outside the First Avenue nightclub in downtown Minneapolis, devotees placed photographs of the artist, a guitar and at least two dozen bouquets of flowers, many of them purple. "We love you Prince!" read a sign attached to one of the bouquets.
Calling Prince a "once-in-a-lifetime artist," music TV channel MTV changed its logo to purple in his honor, and Twitter lit up with reaction from stunned friends and fans.
He was regarded as a perfectionist who from 1993 to 2000 changed his name to an unpronounceable symbol in an apparent protest against his record label at the time. For a while, he was dubbed "The Artist Formerly Known as Prince."