The man they called the 'fifth Beatle' dies at 90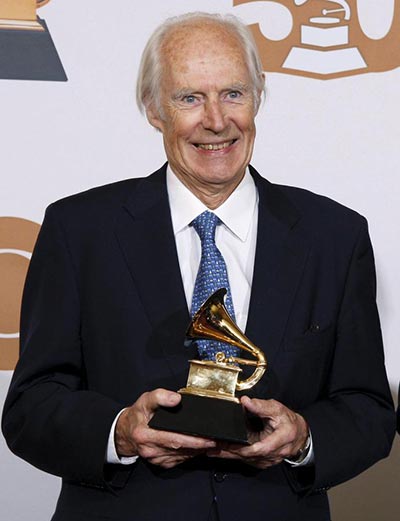 图片说明
Sir George Martin, known as the "fifth Beatles" for putting the Liverpool group on the world map, has died at 90, his family announced Wednesday.
A statement issued by his manager said Sir George's family "would like to thank everyone for their thoughts, prayers and messages of support" after he passed away at home on Tuesday.
The news was confirmed on social media by the Beatles drummer Ringo Starr who wrote: "God bless George Martin peace and love to Judy and his family ... Thank you for all your love and kindness George peace and love xx."
"He was a true gentleman to the end," the statement from his management said.
Sean Ono Lennon, son of slain Beatle John Lennon said on social media: "I'm so gutted I don't have many words. Thinking of Judy and Giles and family. Love Always, Sean."
British Prime Minister David Cameron said: "Sir George Martin was a giant of music - working with the Fab Four (the Beatles) to create the world's most enduring pop music."
Martin's long and successful career in the music industry, during which he produced 700 records, began in 1950 after he concluded his studies at the Guildhall School of Music, and worked as a professional oboist.
He became head of the Parlophone music label in 1955, and went on to sign The Beatles in 1962, enjoying 17 chart-topping hits with the Liverpool band.
When Martin met the "four lads from Liverpool" for the first time he realised their potential, commenting: "I liked them as people apart from anything else, and I was convinced that we had the makings of a hit group."
Martin composed the music scores for the Beatles films A Hard Day's Night - which earned him a Hollywood Oscar nomination, and the film Yellow Submarine, which was nominated for a Grammy.
After the group broke up Martin worked with the other world famous artists, including Bob Dylan, Sting and Sir Elton John. He also recorded solo albums for former Beatle Paul McCartney, Tug Of War and Pipes Of Peace.
He also co-produced Candle In The Wind, the song composed by Elton John to mark the death of Princess Diana in 1997, which sold 37 million copies.
Martin's official website describes him as the world's most successful record producer - racking up 30 number ones across the UK and US singles charts. Sir George won his two most recent Grammys after helping develop the Beatles-inspired Cirque du Soleil show "Love" in Las Vegas in 2006.
Related:
To Kill a Mockingbird author Harper Lee dies at 89