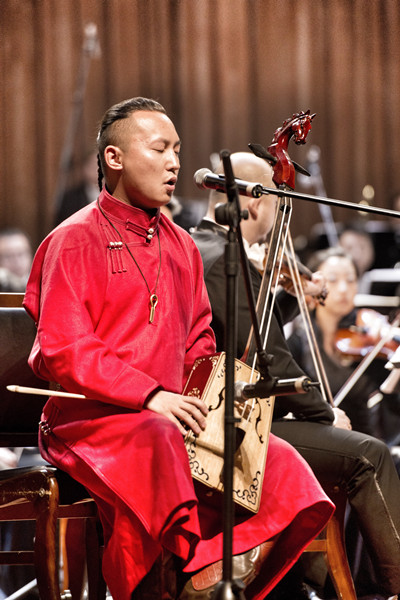 Unir sings while playing the morin khuur, or horse-head fiddle, during a performance. [Photo provided to China Daily]
As his fingers run over the strings, we hear a thunderstorm and rain. When he whistles, you hear the wind. Horses run wild when he strikes his horseshoe-shaped percussion instrument, which has pairs of bells that dance to his touch.
Without lavish costumes, a dazzling stage and elaborate sound effects, Unir paints a picture of nature, the grassland, the place where he comes from.
Born into a nomadic family in the Bortala Mongolia autonomous prefecture of Northwest China's Xinjiang Uygur autonomous region, Unir is in the capital bringing indigenous music of the Mongolian people to a weeklong workshop, teaching a traditional Mongolian instrument, the two-stringed topshur of the Oirat tribe, which dates back to the Xiongnu empire (209 BC-93 AD).
"My family played topshur every day recreationally when I was a child. But nowadays, people rarely know the instrument, which has nearly become extinct," says the 25-year-old, who is now based in Hohhot, the capital of the Inner Mongolia autonomous region in northern China.
While most of his age group listens to pop music from South Korea or the West, he has been attracted to ancient Mongolian sounds since he was young. That included the morin khuur, or horse-head fiddle, and khoomei, or throat-singing, a particular style in which the singer can produce two distinct tones simultaneously, one low pitch and the other high.
At the age of 12, Unir went to school to study his art formally. Now, he works in the orchestra of the Inner Mongolia Folk Art Theater.
Unir is one of the musicians of Mongolian ethnicity invited by Khoomei Caravan, a project launched by Tekexi, a 33-year-old Mongolian from Hohhot.
Since July, Tekexi and his team have taken Khoomei Caravan to several cities across China.
Most of Khoomei Caravan's programs are workshops teaching khoomei and Mongolian instruments, as well as live performances.
"We planned to go to cities that have ethnically Mongolian people. But as we toured, we realized that not just Mongolian people but also people from other ethnic groups were interested in this project," he says.
Khoomei and topshur are listed as part of the country's Intangible Cultural Heritage.
"This recognizes the value of the traditions. However, it also means that they are dying. We want to do something for the treasures," he says.
At the Beijing workshop, Tekexi invited Unir to record traditional music pieces played on the topshur, since such works have no written scores and have been passed down orally for generations.
The idea of the Khoomei Caravan was developed from the Odsuren Academy of Khoomei, a training school founded by Tekexi's elder brother, Temur, five years ago.
Odsuren, a 66-year-old master of khoomei from the Republic of Mongolia, introduced the throat-singing tradition to his country's university syllabus and has taught the skill to more than 1,000 Chinese students since he first visited China in 1993. His academy, which is based in Hohhot, has trained thousands of students, both professional musicians and amateurs.
Zhang Xiaoming, a 20-year-old Tsinghua University junior from Chifeng city, is a beneficiary of the Khoomei Caravan project.
"Though I am of Han ethnicity, I enjoy the powerful and beautiful sounds of khoomei and of Mongolian instruments. For the young generation, it is a very cool and edgy element," Zhang says, noting how khoomei has been incorporated into genres such as pop, rock and rap.