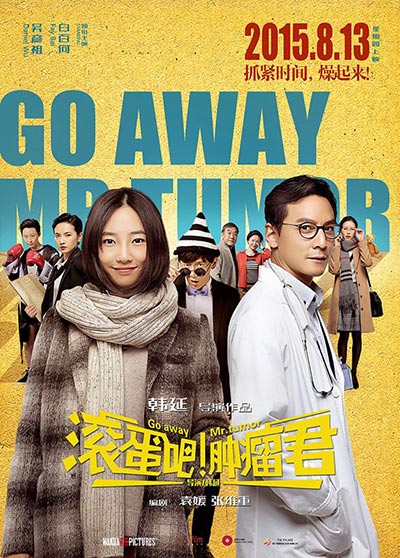 Poster ofGo Away, Mr. Tumor. [Photo/Mtime]
A China Film Day was held in Scotland's capital on Monday with the aim to let local people know more about China through film.
The two Chinese films screened at Filmhouse near West End of the city center were "Go Away Mr. Tumor", a romantic comedy telling how an optimistic woman copes with cancer, and "To The Fore", a sports drama film jointly produced by Hong Kong and the Chinese mainland.
Both film were selected as the entries for the Best Foreign Language Film at the 88th Academy Awards from the Chinese mainland and Hong Kong respectively.
Ken Hay, Chief Executive of Edinburgh International Film Festival (EIFF), said films are transnational, transborder, translanguage and transcultural, expecting the event co-organized by the EIFF and the Film Bureau, State Administration of Press, Publication, Radio, Film and Television of China to be the beginning of a longer-term relationship to share stories, increase understanding and cooperation.
Zhang Hongsen, Director-General of the Film Bureau, said that films can make people share feelings and and the event aimed to let local people know more about China through films, and expand cooperation in the film sector.
Chinese Consul General in Edinburgh Pan Xinchun said the first event of this kind will help promote the relationship between the Chinese side and Scotland to open "a window or door" for Scottish friends to learn more about modern China through such films.
Related:
China enters Go Away, Mr. Tumor for 88th Oscars