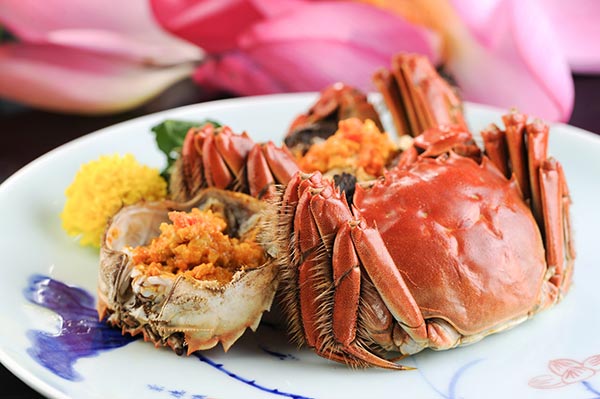 Hairy crab. [Photo provided to China Daily]
The PowerPoint Ke Wei compiled for his staff of about 400-including even dishwashers and his personal chauffer-runs for 26 pages. It's an essential part of the orientation to join his hairy-crab business, he says, but it reveals just a tip of the iceberg, or "a single hair of a hairy crab", of his expertise in the freshwater food, which has been the Holy Grail for people in China's Yangtze River Delta every autumn. The seasonal delicacy is revered here just like the French treat oysters around Christmas.
The document, he says, is sufficient for the team to breed, raise, ship, cook and serve what are the priciest hairy crabs one can find in Shanghai. This year, the most expensive pair of steamed crustaceans offered at Ke's restaurant chain costs around 1,800 yuan ($285), almost as much as Shanghai's minimum monthly wage. Ke exported 40 percent of his over-100-ton annual production to East and Southeast Asia.
"Hairy crabs have never been, and are unlikely to become, a necessity on the dining table. They're always a luxury enjoyed only by the privileged few with ample cash and time," says Ke.
The 47-year-old native of Fujian province, where China's largest volume of oysters is raised and consumed, was rather solemn and quiet during a day trip with China Daily to Taihu Lake in Suzhou, Jiangsu province, where he has netted and fenced an area of 30 square kilometers or so for his money-spinning lake crawlers.
The local fisherman he's hired to "babysit" his crabs proudly boasted about how meticulously Ke's crabs are raised, fed only with corn and snails and given plenty of elbow room at 300 crabs per mu (667 square meters). Ke, meanwhile, sounded more like an environmentalist, worrying about water pollution and the extinction of water plants and other animals that crabs require for symbiosis.