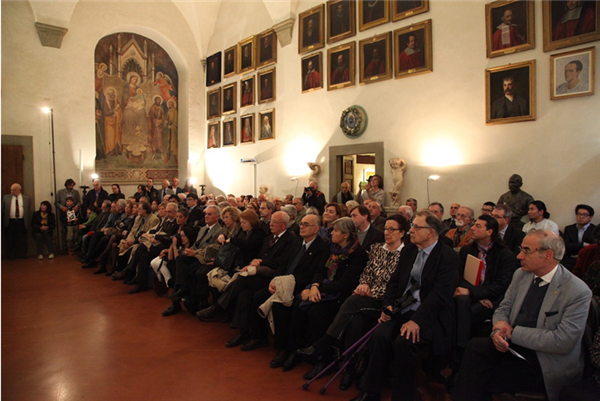 The awarding ceremony was held at The Accademia delle Arti del Disegno in Italy, Oct 17, 2015. [Photo provided to chinadaily.com.cn]
For the first time in its 450 year history, Italy's Accademia delle Arti del Disegno has appointed Chinese artists as academicians.
Painters, Wang Hongjian, Yang Feiyun and Chao Ge have been named communication academicians last Sunday by the Accademia, or Academy of the Arts of Drawing.
According to Luigi Zangheri, president of the academy, the trio was rewarded for its accomplishments in the field of oil painting.
"I hope the three Chinese painters could follow the path of previous academicians like Michelangelo and Raphael – to keep their relentless pursuit in art and carry out the responsibilities of an academician," Zangheri said.
The Accademia is a conservatory of artists in Florence. Aiming to promote and diffuse arts and protect and conserve cultural heritage worldwide, it organizes conferences, concerts, book presentations and exhibitions, and elects noted artists worldwide to honorary membership in the areas of painting, sculpture, architecture, art history, humanity and science.