A trio of titans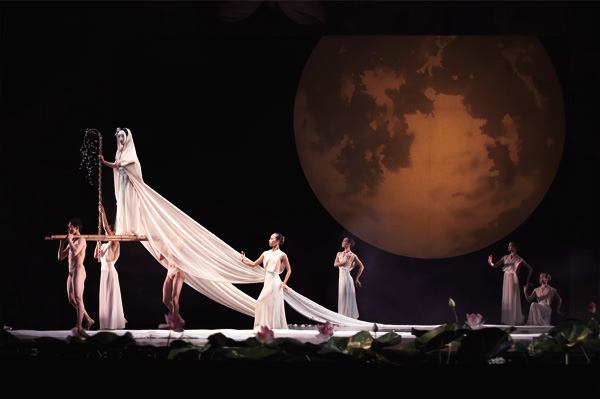 Nine Songs is one of the representative works by Lin Hwai-min and his Cloud Gate dance company. [Photo provided to China Daily]
Three of the most revered masters in contemporary performing arts hail from Taiwan, yet their works are imprinted with a legacy that goes far back into cultural China, writes Raymond Zhou.
The first time I saw Ang Lee's Eat Drink Man Woman in 1994, I was awestruck: It was the most culturally Chinese film I had ever seen.
Ostensibly a melodrama, the family saga of a patriarch who insists on preparing a weekly gastronomical feast for his three daughters has the touch of a great Zen master.
Despite the absence of show-offy techniques, the movie is a mesmerizing reminder of the great literature that was created in ancient China.
Before I saw Water Moon — about a decade after I fell in love with the art of Ang Lee—I had been exposed to many dance dramas in China, most of which were the products of the 1980s and '90s, and based on local legends and folk tales.
They were lavish in production and invariably incorporated Chinese elements, distinct from the classical canon of Western ballet.
Lin Hwai-min and his Cloud Gate dance company are different.
Instead of being faithful to Chinese forms, they have displayed an ability to get to the core — the Chinese spirit. Water Moon left me in a daze. I had never seen a dance drama that is more Chinese yet uses Bach's cello suites for accompaniment. What may sound contradictory on paper has great harmony on stage.
By the time I sat in the "lotus pool", the center of the stage carved out for an audience section, a unique stage configuration for A Dream Like a Dream, I was fully prepared for the eight-hour magnum opus from Stan Lai.
I had seen — and studied — a dozen of his plays and considered them the best of contemporary Chinese-language theater.
Dream has a structure that spirals backward in time and connects thematic and narrative strands that span three major locations and seven decades and often mirror each other. Yet you do not have to understand every nuance to feel its emotional power and gravitas.
Like A Dream of the Red Mansions, China's greatest novel, even a portion of this theatrical masterpiece reveals a scope and a depth rarely seen on the Chinese stage.
It is no coincidence that Ang Lee, Lin Hwai-min and Stan Lai, three of the top artists working in the Chinese-language medium today, all hail from Taiwan. They are rooted in the age-old cultural traditions of China, which were less disrupted by political disquietude.