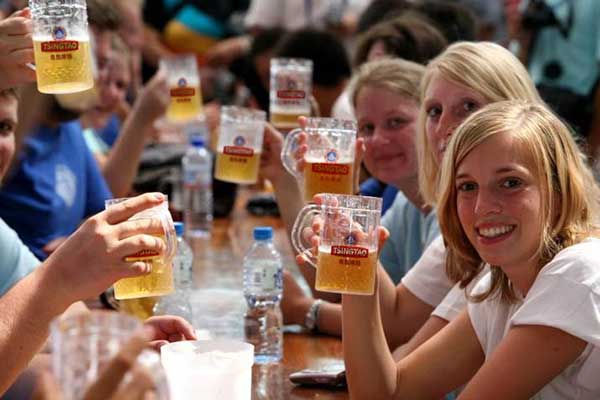 Tourists from around the world have their Tsingtao beer party at the birthplace of the famous brand.[Photo provided to China Daily]
The Tsingtao Beer Museum is likely the only place in the world where a hologram of a German beer researcher experimenting in China splashes a mug's worth in your face.
(Actually, a water nozzle in the ceiling sprays visitors as the holographic researcher launches his glass at you-and laughs. Watching the startled reactions of the unsuspecting is, indeed, fun.)
Visitors to the museum on Everlasting Beer Street in Shibei district of Qingdao can also wobble through the Drunk House, where the floor is slanted to emulate the feeling of walking under the influence-or at least trying to.
And they can trot through a tube with porthole windows through which (digital) amber bubbles jiggle upward, en route to a walkway overlooking the real canning and bottling factories.
Look left and watch 10 bottles filled a second. Look right and see 20 cans injected with beer as fast as you can say "cheers".
These are modern additions to the 112-year-old brewery in Shandong province's Qingdao city. It was established as what was then the Far East's biggest, shortly after German troops claimed Qingdao as a concession. Such remnants from that era remain as the little redbrick house that served as the office and equipment.
About 2,000 tons a year were produced under German rule. It's now about the same volume-per day.
Four giant canisters that look like massive beer cans filter 3 million tons of beer at a time atop the functional factory.
(They can be clearly seen standing next to the Cheers of the World Fountain, a large stone bottle with eight carved cups in the courtyard.)
Japanese replaced the Germans in 1914.
The Kuomintang took the factory in 1945. The Communists later claimed the plant. The reform and opening-up unleashed market forces that have made it the world's sixth-biggest brewer today.
Five of the company's 67 factories in China are in Qingdao.
Tsingtao exports to 90 countries. The United States is its largest overseas market.
Tracing the brand's evolution are ads, bottles and such items as 1980s beer-ration tickets.