Perry is world's highest-paid woman in music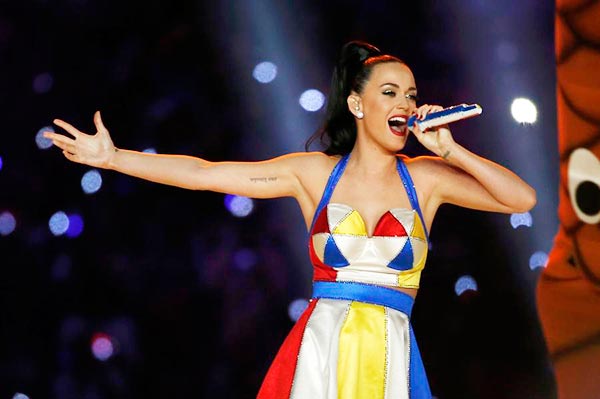 Katy Perry performs during the halftime show at the NFL Super Bowl XLIX football game between the Seattle Seahawks and the New England Patriots in Glendale, Arizona, February 1, 2015. [Photo/Agencies]
With a massive world tour, constant hits singles and a string of endorsements with big companies under her belt,
Katy Perry
is without a doubt the highest-paid woman in the music business in 2015 with $135 million, leading the race with a whopping $75 million gap between herself and the first runner-up
Taylor Swift
.
According to Forbes magazine, Perry has cashed in $2 million per city on the count of 126 shows during her Prismatic World Tour. Her deals with Coty, Claire's and Covergirl also added to her earnings.
Taylor Swift pulled in at No 2 on the list with $80 million. Her album 1989 has sold 3.6 million copies worldwide and earnings from her 1989 World Tour averages to about $4 million per city.
British-American rock band Fleetwood Mac followed at third on the list with $59.5 million. Although the band consists of three male members, the team's two high-profile ladies - Stevie Nicks and Christine McVie - render the group eligible for the list. The band has reportedly earned $1 million per city during their 86 concerts of the On With The Show tour.
Lady Gaga ranks fourth with $59 million, followed by Beyonce at $54.5 million. Lady Gaga played 66 shows during the scoring period and endorsed for big names including Versace, M.A.C and her own Fame Fragrance. Beyonce's On The Run tour with her husband Jay Z earned her more than $100 million for 19 North American dates.
The list of highest-paid women in music measures pretax income from June 1, 2014 to June 1, 2015 before subtracting management fees.
Here's the full list.