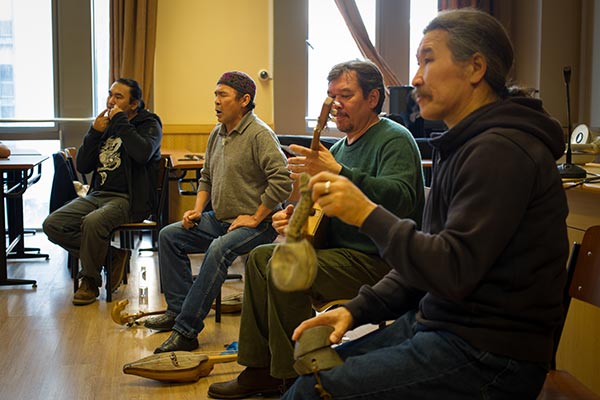 Members of the band Huun Huur Tu from Tuva Republic introduce their music to students of the Shanghai Conservatory of Music. [Photo by Gao Erqiang/China Daily]
The songs of Huun Huur Tu are derived from the chants of horseback riders of the Tuva Republic, a member of the Russian Federation, located in southern Siberia along the border with Mongolia.
The popular group has been active on the world music scene for more than two decades.
The group has performed, recorded and collaborated with Western musicians and bands such as Frank Zappa and the Chieftains, and made music for movies.
But Huun Huur Tu is most famous for traditional throat singing. The band was formed in 1992, consisting of four members. Kaigal-ool Khovalyg and Sayan Bapa have been in it right from the start, with Alexei Saryglar and Radik Tulush joining later.
The group's name in the local language means sunlight.
Huun Huur Tu will participate in the ongoing Beijing International Music Festival and present a concert in downtown Beijing on Wednesday. It will conclude its 2015 China tour with a performance at Mako Live House, also in the city, on Oct 25.
Earlier this month, group members spoke to students of the Shanghai Conservatory of Music about their techniques and instruments.
Throat singing is known as khoomei in Tuva, and consists of two or three notes uttered simultaneously, Bapa says.
The overtone, as recently performed by Khovalgy and Tulush at the Shanghai conservatory, sounded like the sound of wind in the grasslands or someone whistling while riding a horse.
By adjusting the position of one's tongue inside the mouth-the way fingers are positioned on the strings of a guitar-the singer presents high-frequency notes known as sygyt and low-frequency singing called kargyra.